Destiny Plays a Role in New Union
January 24, 2016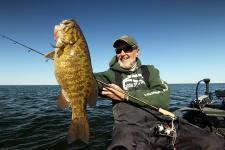 St. Croix Rod unites with Lindner's Angling Edge to put the best rods in the best hands
Park Falls, WI (January 25, 2016) Believe in destiny? You might say it was destiny that led basketball immortal LeBron James back to his home state of Cleveland and the Cavaliers. Leveraging another sports analogy, perhaps it was destiny (or a curse) that put Brett Favre in a purple sweater taking snaps across the river. (Packer fans would say that destiny caused the green and gold hall of famer to throw that ill-fated interception in the NFC Championship game, as a Viking. Ouch)
Destiny finds its way into the sportfishing arena, too. The most recent example being the pairing of legacy rod builder St. Croix Rod and the journeymen fishing educators at Lindners Angling Edge. Both Midwest based. Both tops in their game. Both influencing fishing successes from coast to coast.
Why did it take so long? Sometimes, destiny takes its own sweet time
We couldnt be happier, said St. Croixs beaming VP of Brand Management, Jeff Schluter. If you fish, you know the Lindners and their historical importance to the sport. I dare say no other group of fishing minds has left more fingerprints on freshwater fishing.
Modern day, technology-driven fishing wouldnt be where it is today without the brilliance and influence of Ron, Al and Jim Lindner and Angling Edge.
Speaking of technology, its St. Croixs middle name. The Wisconsin-based company has built its reputation on continuously redefining what it means for a rod to be state-of-the-art. Proprietary technologies like Integrated Poly Curve (IPC), Advanced Reinforcing Technology (ART) and Fortified Resin System (FRS) cause St. Croix to rise like cream above a broth of rod makers.
Al Lindner speaks: This is exciting. Fishing with The Best Rods on Earth. St. Croix gets it. They engineer rods not only for every species of fish that swims, but also every technique used to catch them. If Im fishing smallmouth bass on tube jigs, St. Croix has a rod to do just that. They do the homework so you dont need to test dozens of lengths and actions to find the perfect fit.
In my book, thats customer service.
Expect to see the Lindners Angling Edge brandishing a wide assortment of St. Croix rods Legend Elite Musky and Mojo Musky on their legendary predator fish hunts; the award-winning Legend Xtreme for bass and walleyes; Avid X for rod-to-fish combat with smallmouth and largemouth bass; and a wealth of other rod series, each intelligently selected for the task at hand.
Lindners Angling Edge airs on several premium outdoors networks, including Fox Sports, Outdoor Channel, World Fishing Network (WFN), Pursuit Channel and numbers of local and regional networks. Visit (blank) for a complete listing.
Destiny? Theres no question. It was only a matter of time before The Best Rods on Earth were in the hands of the best sticks in freshwater fishing, Lindners Angling Edge.