Guide
tested techniques for fall walleye fishing
September 14, 2016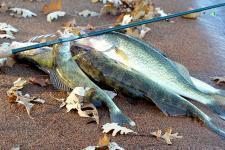 Three Techniques for Fall Walleye Fishing
The signs of change are occurring. Once uniformly-green lily pad fields are now sprinkled with yellows and browns. Along the shorelines, tamaracks have entered their golden phase, and maples are tinged with crimson. Beneath the surface, walleyes that have been scarce during the second half of summer feel the changes as well. Indeed, the fall walleye bite is about to happen on a lake or river near you! These three techniques will help you put ol marble-eyes in the net this fall.
Go big or go home. A classic fall technique for oversized daytime walleyes is to fish oversized live baits, especially redtail chubs, along deep structure. This is a tried-and-true midday method on classic walleye waters, like Minnesotas Leech Lake or Wisconsins Lac Courte Oreilles, and works best after the fall turnover has occurred. Look for sharp breaklines leading into deep water, deep saddles between points, or offshore humps that top out at 30 feet deep. Gear up with a oz or larger walking sinker to keep that big bait close to the bottom, a 6-foot leader of Seaguar fluorocarbon, and #2 dropshot/live bait/finesse hook from Trapper Hooks. Dress the hook with the largest redtail chubs or creek chubs that you can get your hands on. Present this offering using a 76 St. Croix Legend Tournament Walleye rod (LTWS76MLXF), which offers extreme sensitivity to feel every nervous wiggle of that redtail, long length to move a lot of line on the sweeping hookset, and the power youll need to drive the hook home into a trophy walleyes bony jaw.
Get your troll on. The cooling waters of fall pull large numbers of stocky walleyes back into shallow water to feast on perch and shiners. This annual movement is accompanied by night-shift trollers that target these marauding gamefish using long rods, line counter reels and hard baits. In early fall, shad-bodied baits pulled close to 2 mph will see the lions share of action, while late October and November trollers reduce their speeds and present slender, minnow profile baits like a Rapala Shadow Rap, Husky Jerk or LIVETARGET Rainbow Jerkbait. The St. Croix Eyecon trolling rod (ECT80MM2) pulls double-duty as an excellent long-line shallow water trolling tool, as well as an outstanding choice for pulling heavy 3-way trolling rigs in rivers. If youve never listened to a World Series game on the radio while battling a trophy walleye under the light of the full moon, you owe it to yourself to try night trolling this fall!
Go with the flow. Large river systems, like the Mississippi, Missouri and Fox, that are famous for pre-spawn walleye action, also host an outstanding, albeit less-pressured, fall walleye bite. With many outdoor enthusiasts trading their walleye boat for a deer stand or a duck blind, fall fishing offers an excellent opportunity to tangle with a true river monster, but without the crowds of spring. Vertical jigging with soft baits is a technique that river rats have had in their back pockets for years, and is now entering mainstream walleye consciousness. Tie on a 3/8 oz jig head with a wire plastic keeper, like the Precision Jig from B-Fish-N Tackle, and dress that jig with a 3-4 soft bait, like the Z-Man MinnowZ, in a bright color pattern to offset the turbid waters of fall. Fish this combination on a short, stout and sensitive St. Croix Premier (PS60MF) or St. Croix Eyecon (ECS63MXF) rod. Keep in mind the less is more approach when vertical jigging with soft baits: the less you move the bait, the more fish youll catch. Let the current do the work; hover the bait 6 above the bottom as you slip downstream with the flow, and enjoy the results of this emerging technique for river walleye and sauger.
Spring walleye fishing gets all the press, but the fall bite is truly the most enjoyable time of the year to chase trophy-class fish. Pleasant weather, technicolor shorelines, campfire smoke drifting through the air, and big walleyes on the line all go hand-in-hand as nature prepares for a long winters nap. Take advantage of these last open water fishing opportunities of the year; youll be drilling holes in the ice soon enough!
Article By: Dr. Jason Halfen, The Technological Angler