57 New Legend Elites
A Benchmark Rod Series Made Even Better
July 05, 2015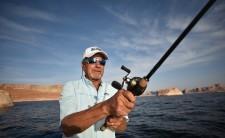 St. Croix makes "the best" even better by overhauling flagship freshwater rod series
Park Falls, Wi (July 6, 2015) In 1957, automotive engineer Ed Cole created Chevrolets now classic car design. Also in 57, American guitar manufacturer Fender moved from ash to alder Stratocaster guitar bodies.
The rest is rock n roll history. Enter another legendary American icon-creating company for whom the number 57 is significant: family-owned and operated St. Croix Rod of Park Falls, Wisconsin.
Among todays countless rod options, St. Croixs flagship freshwater rod series, Legend Elite, has earned near magic wand status with anglers across the globe. Its the rod that stands steadfast on a mantle; an aspirational stick by which all others are judged.
Basically, when your passion drives you to fish only the best, the choice is simple Legend Elite.
And the best just got better.
In St. Croixs never-ending quest to design and build the best rods on Earth, Legend Elite has been completely overhauled for 2016.
No toe-dippers here, St. Croix has redesigned the entire series. 57, in fact, all with specialized tapers for bass, walleye, pike, musky, salmon and steelhead and dramatically improved balance, reduced weight, and unprecedented sensitivity.
Our goal with the new Legend Elite project was to make the best even better. We talked to our pro staff, customers, and spent a lot time at the whiteboard crunching numbers, refining processes and investigating the absolute finest components available, says David Schluter, VP Engineering.
We took what was already our best platform of blanks, did some tweaking and found the best guides available. The cork is similar to the previous version but the reel seat has been updated. We knew it would be a huge undertaking but one we could really feel good about. The end result is the ultimate cork handle rod with the very best guide train in the world, adds Schluter.
To take on such an ambitious plan, St. Croix engineers used every bit of cutting edge technology, refined building processes and improvements in components to create the new benchmark rod series.
Unique Proprietary Technologies
St. Croixs standards for blank-building excellence stems largely from proprietary technologies and processes like IPC, TET, FRS, and ART, all integrated into the creation of the new Legend Elite.
And so, each Legend Elite enters the world as a consistent, perfect blank.
St. Croixs exclusive Integrated Poly Curve (IPC) tooling technology and their new Taper Enhancement Technology (TET) provides unique, computer designed-and-cut patterns for improved actions and increased sensitivity. Theyre built with high-modulus/high-strain SCV graphite with carbon-matte scrim and reinforced with super high-modulus SCVI graphite for added power and reduced weight.
Both graphite materials utilize St. Croixs Fortified Resin System (FRS), which combines a fortified super resin with computer operated curing ovens that provide improved temperature and time management through all stages of the blank curing cycle. Blanks manufactured with FRS are up to 33% stronger than those built with standard resins and curing methods. They are further enhanced with Advanced Reinforcing Technology (ART) at strategic locations along each blank for added strength with virtually no additional weight. Two-piece models feature ART-reinforced slim-profile ferrules with exceptional strength.
Advanced Components
Legend Elites new, advanced components include Fuji Torzite guides with solid-titanium frames for unrivalled, 100% corrosion-proof performance. Its worthy noting that Torzite is the first ceramic created specifically for fishing rod guides, and it is stronger, lighter and five times smoother than Fuji SiC, the industry's previous gold standard. Torzite has allowed significant weight reduction with improved guide strength while downsizing the frame but keeping a maximum guide opening.
New Legend Elite spinning rods also feature Fuji TVS blank-touch reel seats with built-in hood, and casting rods feature Fuji PTS blank-touch reel seats with built-in hood. Musky rods sport Fuji PLS-LD palming reel seats with shiny grey hood for greater ergonomic and aesthetic appeal.
All models include anodized, machined-aluminum wind checks, super-grade cork handles (split-grip handles on musky models) and exclusive Kigan titanium hook-keepers. Thread wraps are protected by two coats of Flex Coat slow-cure finish.
Heres a parting factoid: From blank creation to final dressing and packaging, each new Legend Elite is touched by no fewer than 30 sets of human hands before it reaches the customer.
Weve all been completely blown away by the end result of the new Legend Elite project. Its the culmination of a lot of hard work, immediately apparent when you hold one in your hand. The rods practically float in the hand. Our pro staff is really excited and we think our customers will be, too, says Jeff Schluter, VP Marketing.
The new Legend Elites are designed and handcrafted in Park Falls, Wisconsin, come with a protective rod sack and a 15-year transferable warranty backed by St. Croix Superstar Service. They retail from $370 - $550.
About St. Croix Rod
St. Croix Rod is a family-owned and managed manufacturer of high-performance fishing rods headquartered in Park Falls, Wisconsin with a 65-year heritage of USA manufacturing. Utilizing proprietary technologies, St. Croix controls every step of the rod-making process, from conception and design to manufacturing and inspection, in two company-owned facilities. The company offers a complete line of premium, American-made fly, spinning and casting rods under their Legend Elite, Legend Xtreme, Legend Tournament, Avid Series, Premier, Wild River, Tidemaster, Imperial and other trademarks through a global distribution network of full-service fishing tackle dealers. The companys mid-priced Triumph, Mojo Bass/Musky/Inshore/Surf, Eyecon and Rio Santo series rods are designed and engineered in Park Falls, Wisconsin and built in a new, state-of-the-art manufacturing facility in Fresnillo, Mexico. Founded in 1948 to manufacture jointed bamboo fishing poles for a Minneapolis hardware store chain, St. Croix has grown to become the largest manufacturer of fishing rods in North America.