St. Croix Hits the Jackpot
July 12, 2015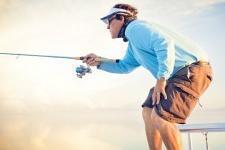 Progressive Avid Inshore ups the saltwater ante – redfish, trout, flounder and drum expected to fold
Park Falls, WI (date) If the engineers at St. Croix Rod were professional card sharks, theyd be odds on favorites to win the World Series of Poker. Lady Luck neednt apply when these guys get together to craft a series of rods, either.
Winner, winner chicken dinner! The revamped Avid Inshore just hit the jackpot!
Call your species; the Avid Inshore has stacked the deck. The 22-model series includes spinning and casting models to win every saltwater competition. Tailing marsh redfish are no match; same goes for fluke running rips and stroking jigs. (Just exactly how do bottom-flopped flounder turn, accelerate and strike a lure? Amazing) Stripers will struggle, drum look dumb and tarpon get taught respect as well.
Like all of St. Croixs exceptional fishing tools, Avid Inshore fuses advanced components and rod-building technology with thoughtful craftsmanship. Betterment begins at the blank. The refreshed Avid Inshore is founded on an SCIII graphite blank a blank born of St. Croixs exclusive Integrated Poly Curve (IPC) tooling technology. The exclusive process yields continuous curve tapers, increased hoop strength and improved sensitivity. In short: These are the most sophisticated and best performing blanks in their class.
Raising the stakes, Avid Inshore features an enhanced guide platform with Kigan Master Hand Zero Tangle guides with solid-titanium frames for 100% protection from saltwater conditions. All thread wraps are protected by two coats of Flex Coat slow-cure finish as well.
Fuji DPS reel seats with gunsmoke hoods deal a comfortable grip and solid foundation for casting reels. Avid Inshore spinning models sport trusted Fuji ECS or TCS reel seats. Casting and spinning models double-down with super-grade cork handles tipped with corrosion-proof wind checks.
Its fair to close with a note about cosmetics... St. Croix Rod has always been about stately, understated looks leaving the look at me, look at me to brands built on cosmetics, not quality. This time around, St. Croix earns style-points, too. The Avid Inshore wears a thematic seafoam skin that looks the part strolling through any seaside town.
Designed and handcrafted in Park Falls, Wisconsin, the all-new Avid Inshore rods retail for $230 - $290, and come with a 15-year transferable warranty backed by St. Croix Superstar Service.
About St. Croix Rod
St. Croix Rod is a family-owned and managed manufacturer of high-performance fishing rods headquartered in Park Falls, Wisconsin with a 65-year heritage of USA manufacturing. Utilizing proprietary technologies, St. Croix controls every step of the rod-making process, from conception and design to manufacturing and inspection, in two company-owned facilities. The company offers a complete line of premium, American-made fly, spinning and casting rods under their Legend Elite, Legend Xtreme, Legend Tournament, Avid Series, Premier, Wild River, Tidemaster, Imperial and other trademarks through a global distribution network of full-service fishing tackle dealers. The companys mid-priced Triumph, Mojo Bass/Musky/Inshore/Surf, Eyecon and Rio Santo series rods are designed and engineered in Park Falls, Wisconsin and built in a new, state-of-the-art manufacturing facility in Fresnillo, Mexico. Founded in 1948 to manufacture jointed bamboo fishing poles for a Minneapolis hardware store chain, St. Croix has grown to become the largest manufacturer of fishing rods in North America.