Radical Rod Design Puts Surf Casters in Their Place
February 10, 2014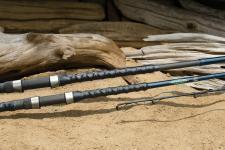 St. Croixs new Legend Surf spinning model allows angers to fish in tight spaces, yet still cast to far-away places
X marks the spot. Its the single rock protruding from the oceans edge; the ledge extending along the jetty; or that shallow sand bar beyond the trough. Youll risk a compound fracture or worse if you want to get there. Perhaps it takes a long, frigid, chest-deep wade maybe even a full-blown swim to reach. Watch out for the man in the gray suit.
X is the best surf-fishing spot along the beach. Yet, rarely does anyone including you attempt to get there, let alone cast from it.
Its not that you and your buddies arent willing to try. The practical difficulty stems from the fact that casting with a surf rod requires space a windup before the pitch, if you will. Multiple footsteps, a full-body twist followed by a swinging of both arms is required to send your offering on its long-distance launch. Making the perfect cast just isnt going to happen from that little platform youve been eyeing.
But then again, you arent holding the newest long rod in the St. Croix Legend Surf series a 12-foot spinning model thats filling the racks of finer tackle shops right now. This rod has just the right action so your feet can stay planted firmly to their perch while sending your bait soaring. And we mean soaring
The designers at St. Croix hit the ball out of the park with this rod, says Dave Colley, regional sales representative and avid surf angler. Its got an action that allows it to bend deeply within the body of the blank, so theres no need for a full-body windup before the cast, even with lures as heavy as 6-ounces. And, its a two-piece rod that fishes like a one-piece.

There are so many in-depth engineering marvels on this new-for-2014, medium-heavy power, moderate-fast action spinning model it would take an entire download of Encyclopedia Britannica to explain. So, well just tell you in laymans terms: for its size, it is the lightest, best-casting surf rod on the market today.

First, theres the high-modulus/high-strain SCIV graphite combined with St. Croixs unique Integrated Poly Curve (IPC) tooling for a smoother action tip-to-butt. Next, a Fortified Resin System (FRS) adds extreme durability and combines with St. Croixs Advanced Reinforcing Technology (ART), an exotic carbon fiber material that adds 10X the compression strength to the blank. ART is also used in the slim-profile ferrule. Speaking of the ferrule, this ones right where it belongs on a surf rod off-set within the lower half of the blank instead of mid-point, which gives it the amazing feel and performance of a one-piece rod.

Like all others in the Legend Surf series, the 12-footer rated for 12- to 25-pound test and 1- to 6-ounce lures features a custom X-Grip neoprene handle for non-slip yet ultra-sensitive feel. Top-quality Fuji LC surf guides with Alconite rings for increased casting distance are secured with two coats of Flex Coat slow-cure finish. Cosmetics and performance combine where the Fuji DPS reel seat with frosted silver hoods accents an attractive Belize blue blank.

Designed and manufactured in Park Falls, Wisconsin, USA, and backed by St. Croixs lifetime limited warranty with Superstar Service, the new 12-foot Legend Surf spinning rod is designed for extreme surf-fishing circumstances and pitching without the windup. The only problem is youll have to get out of bed a lot earlier. If your buddies get a hold of one of these rods, count on your X spot being taken by sunup.

Lock feet. Load rod. Launch!