Of Gold Medals and Monster Carp
January 05, 2014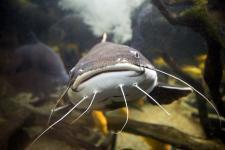 St. Croix's new Avid Carp series prove to be worlds classiest carp rods
On the international competitive carp circuit, winning has little to do with how many gargantuan goldfish you tag. The question is, instead, how many of these animals can you actually wrestle into the net? Given the species propensity to bite baits on tiny hooks, yet rip line from reels like a runaway train, a hooked carp isnt necessarily a netted carp.
Topnotch carp angler Lee Young had been stymied with this dilemma for years. He had literally searched the world over for the ultimate carp rod; one that both tossed tiny delicate baits a mile and also put a beat-down on these huge aquatic animals. At an impasse, the native Brit turned U.S. competitive carper turned to the only rod company he deemed worthy and capable of the challenge. The resulting St. Croix Avid Carp series exceeded his and everyones expectations, serving as a gold-medal quality carp fishing tool.
Melding the talents of St. Croix rod engineers with the experience of a truly talented carp angler, this definitive three-rod series offers the ultimate in carp fishing performance. We endeavored to build rods that were not only capable of catapulting baits over 100 yards, said Young, captain of Team USAs Carp World Championship squad, but also tools that possessed the power to tire big fish fast and keep them securely pinned to tiny #10 to #14 hooks. Together, these tasks can be monumentally difficult to achieve in a carp rod.
Not surprisingly, though, St. Croix nailed it.
Crafted with proprietary SCIII high-modulus graphite blanks, these classy carp rods employ Integrated Poly Curve (IPC) tooling technology to bolster strength and sensitivity. Each moderate-fast action rod also sports a unique progressive multi-taper physique that regulates load for rocket-launching casts and effortless fights with big fish. Moreover, fast tips amplify strike detection while cushioning and protecting tiny hooks.
Young calls the 9-foot 6-inch (medium power) ACS96MMF a brilliantly versatile carp tool. For casting to carp within 80-yards of shore, for stalking or sight-fishing, or for presenting bobber rigs or boilies and hair rigs weighing up to 3-ounces, this rod is in a class all its own. Ive landed carp up to 37-pounds with this rod. It beats fish fast, before they have a chance to break loosethats an absolutely critical advantage.
For the serious or competitive carp angler, the 12-foot (medium-heavy power) ACS120MHMF2 easily propels up to 4-ounces of weight well in excess of 100 yards. This rod shines for launching and presenting dainty baits on small hookshair-rigged sweet corn on a #12, or even a couple maggots on a #14. But it also easily handles larger boilies and paste baits. Its the ultimate tournament rod because it allows me to beat 10 to 20 pound fish very quickly, and I dont worry about small hooks pulling loose.
Brand new for 2014, Young also helped St. Croix design a beefier 12-foot heavy power model that launches baits afar. Gripping this rod, Team USA members have cast baits beyond 180 yards into a 20-mph headwind. And its just as comfortable handling other heavyweight fish, too, including muskies and big catfish.
The new Avid Carp ACS120HMF2 rod is also ideal for fishing whats called the method, molding attractor baits around heavy sinkersan incredibly productive and wildly popular tactic for big fish in big water.
Each of these rods offer the perfect lengths and actions to drive small hooks home at long range. They pick up line exceptionally fast, too. Further, the rods extended butt sections add leverage, casting distance and maximum accuracy. And their remarkable multi-taper blanks work in your favor and against the fish at all times.
Like all other rods in St. Croix leading edge Avid series, Avid Carp spinning rods are tricked out with Fuji Alconite guides, slim-profile ferrules, select-grade cork handles and two coats of Flex Coat slow-cure finish for rugged durability and striking cosmetics. Avid Carp rods clutch reels using Fuji DPS reel seats with gunsmoke hoods. Priced from $260, each rod carries a lifetime limited warranty backed by St. Croix Superstar Service.
Young adds: I cant wait to take my Avid Carp rods to the World Carp Championships this year in Europe. The tournament anglers there are going to drool over their feel and performance.