Silver's Value Worth Extra on Ice
November 14, 2013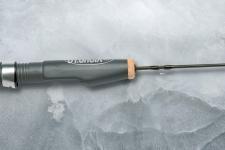 St. Croixs Legend Silver Ice gives cold-handed anglers a silver-mine of features and performance.
Whats up with silver these days? Quite a bit, actually...
While gold has its reality TV shows and advertisements of buy-now get-rich-quick-later schemes, as well a volatile front-row spot on the New York Stock Exchange, silver holds its own behind the scenes. And its value mounts each and every day...
The designers at St. Croix also understand the stability of silver and have created a series of ice rods named after the trustworthy metal the Legend Silver Ice series, to be exact.
The Legend Silver Ice brings to the cold-handed an ice-fishing rod with features and performance only ascribed to St. Croix.
A super-sensitive strike indicator; a blank sensitive enough to feel a fish passing in close proximity of your bait, not to mention a light nip; the power to set the hook when one does strike marry all these together and you have the perfect ice-fishing rod. says professional ice tournament angler and St. Croix devotee Kevin Fossbind about Legend Silver Ice.
New for 2014 are 10 (we repeat, 10) St. Croix Legend Silver Ice models, spanning the hardwater globe in lengths, powers and applications. Meticulous sight-anglers will appreciate the stealthy 17-inch dabbler while the growing long-rodding fraternity can select the 48-inch Legend Silver Ice with confidence. And in between, St. Croix has you blanketed for every species and application imaginable.
Every rod in the entire Silver edition is coupled with a fully-adjustable, interchangeable high-tension super-finesse stainless-steel strike indicator, which allows anglers to know when a fish as much as breathes on a jig. And the precision-taper, solid-carbon blank provides appreciable sensitivity and the right amount of oomph on the hookset.
Reels are snug tightly via a secure-lock reel seat with comfortable cork-trim, while line runs mercurially through high-quality Pac Bay Minima guides. All this for $60 to $70.
To say a St. Croix Legend Silver Ice rod is worth more than the metal itself could be an understatement. The feel of the fish that might have gone undetected with a lesser tool is winters silver lining.