Going to Great Lengths
December 18, 2013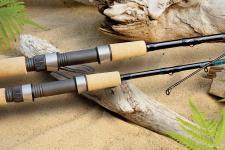 St. Croix Rod adds three longer spinning models to the American-made Premier series
The eruption of longer fishing rods isnt just a blip on the radar; its here to stay. There are unalienable advantages to reaching beyond the 6-1/2, even 7-foot mark. Casting distance is one. Balanced harmoniously with reel and matched line, a bait simply sails farther. Sweetness of the hookset is another. Those added inches sink hooks with grace. But its not merely aesthetic. Physics tells us there is a mechanical advantage to a longer lever. Think of how a cheater bar works for loosening stubborn bolts. The same applies to fishing rods.
It is for these reasons coupled with conjunctive demand that St. Croix Rod has buffered the lineup of Premier spinning rods to a substantial 37 models. Each of the three new versions spans 7 6 and wields a fast action. Two models the one-piece PS76MF and two-piece PS76MF2 boast medium power, while the two-piece PS76MLF2 pares back to medium-light for more play.
Like all of their siblings in the best-selling Premier series, the three newborns are built on premium-quality SCII graphite blanks and teamed with Kigan Master Hand 3D guides with slim, strong aluminum-oxide rings mounted with precision assignment.
Premier handles are born of superior-grade cork and the reels seats are Fuji DPS with frosted silver hoods. Every rod guide thread wrap is skillfully sealed with two coats of Flex Coat slow-cure finish for the ultimate protection and a rich appearance. Candidly you wont find another rod with grander componentry, design and craftsmanship in the Premiers price-range.
Guide and St. Croix pro staffer Brian Bro Brosdahl is particular about what he puts in clients hands, balancing performance with the reality of hits to the pocketbook. I want my clients fishing St. Croix rods, but at the same time I have to be realistic about the cash outlay. The Premier series lets my clients experience St. Croix performance while giving me the budget to stack the deck with lengths, powers and actions for whatever were chasing walleyes, bass, bluegills, crappies and perch.
Designed and handcrafted in Park Falls, Wisconsin they come with a 5-year warranty backed by
St. Croix Superstar Service. Retail prices on these new Premier spinning rods range from $140 - $150.