St. Croix Lifts the Veil on its Most Sensitive Rods Ever
February 17, 2020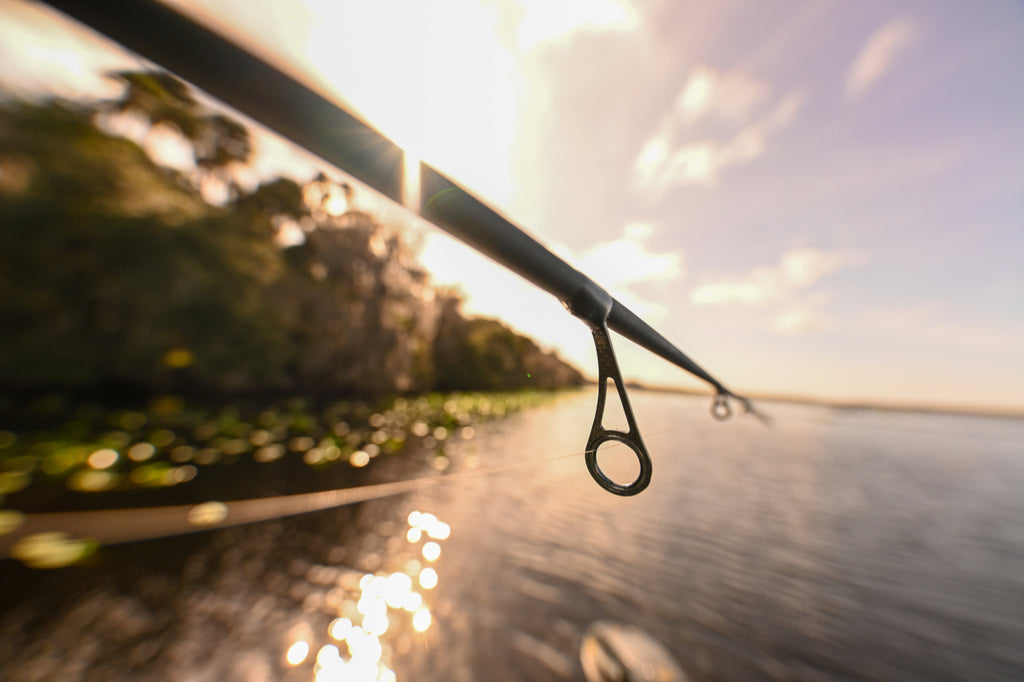 St. Croix Lifts the Veil on its Most Sensitive Rods Ever
All-New Legend® Xtreme Series to be introduced at the 2020 Bassmaster Classic
Park Falls, WI (February 17, 2020) – St. Croix Rod has one guiding goal: to provide anglers with the rods that give them the upper hand in any fishing situation. So when anglers began requesting rods with increased sensitivity, instead of arguing that St. Croix rods were already the Best Rods on Earth®, the engineers in Park Falls listened intently. They went to work performing sensitivity testing on all the rods in their expansive lineup. Ultimately, these painstaking exercises resulted in a repeatable and quantifiable method for measuring the sensitivity of each St. Croix rod.
"These efforts will pay dividends to all anglers," says St. Croix Director of Marketing, Jesse Simpkins, "by allowing us to make seemingly small changes to existing rod models and series that will return significant increases in performance."
But there's a lot more to this story. St. Croix's sensitivity testing and measurement methodology has resulted in something else of great significance as well – something that simply must be fished to be completely understood and fully appreciated. It's the first, outward example of St. Croix's new obsession with sensitivity, and is likely to become the single most-significant new-product launch in the company's 70+ year history.
Keeping its promise to anglers, St. Croix Rod announces the next generation of Legend® Xtreme rods. Launching at the 2020 Bassmaster Classic early next month, these highly advanced Xtremes are easily the most sensitive rods St. Croix has ever produced. St. Croix materials, technologies, engineering and craftsmanship have combined with Daiwa's incredibly sensitive – and strong – AGSTM carbon fiber guides through an exclusive partnership. Put simply, the result is a heightened, highly sensitized fishing experience the likes of which anglers have never experienced before.
How does one describe the indescribable? Gavin Falk, St. Croix Rod Engineering Supervisor, lays it down like this: "These new Legend Xtreme rods use a strategic combination of unique components, materials and technologies in their blanks, guide trains and handles to maximize the energy transfer from the line to the rod and, ultimately, to the angler's hands." Of course, anglers will undoubtedly come up with their own creative descriptions and responses after they fish the new Legend Xtreme. Until then, read on… and set your expectations high.
A Blank Slate
The story of the NEW Legend Xtreme begins with the series' incredibly sensitive blanks, which feature Integrated Poly Curve® (IPC™) mandrel technology and design for more refined powers and actions. IPC adds continuous tapers to eliminate "stepped" transition points to create blanks that are smoother, stronger and more sensitive than traditional designs. They also feature a new and improved version of St. Croix's Advanced Reinforcing Technology™ (ART™), a high-tensile high-modulus cross-grain material that reinforces the blank and allows for the use of less material while maintaining strength and decreasing weight.
Additionally, Taper Enhancement Technology (TET) blank design provides curved patterns for improved action with increased sensitivity. "We add a little bit of curvature to the patterns to refine the actions of the blanks even more… which is especially noticeable in the extra-fast models," says Falk. "Taper Enhancement Technology makes these new rods even smoother."
New Legend Xtreme rod blanks also feature St. Croix's most exotic blend of carbon materials. A super high-modulus SCVI carbon in the lower section joins high-modulus/high-strain SCV carbon in the upper section to yield maximum power, unparalleled strength, durability, sensitivity and reduced overall weight. St. Croix's Fortified Resin System (FRS) is also employed throughout the entire blank. FRS combines a fortified super resin with computer-operated curing ovens that provide improved temperature and time management through all stages of the curing cycle. Ultimately, FRS prevents microbuckling by keeping the carbon fibers in proper alignment throughout the critical curing process. Blanks manufactured with this advanced manufacturing protocol consistently test out at 33% stronger than those built with standard resins and curing methods.
Finally, a new, stealthy, matte-black finish completes the upgrade to the new Legend Xtreme's incredibly sensitive, high-performance blank – the ultimate canvas for additional sensitivity-enhancing features and components.
Guiding Principles
Moving beyond their remarkable blanks, new St. Croix Legend Xtreme rods take sensitivity to insane levels via the all-new, exotic Daiwa AGS carbon fiber guide train.
"The Daiwa AGS carbon fiber guides with Fuji KG tip top and torzite ring are brand new to us, and we have the both the knowledge and the exclusive rights to use them," says Falk. "Their rigid frames are what really set these guides apart and make them so unique. They transfer energy much more efficiently than other traditional guide platforms. Their rigidity increases responsiveness, which is beneficial in every fishing situation… not just the obvious ones; they reduce recovery time when making a cast, for example. The bottom line is that the angler is always feeling what's happening with their line and lure."
Think these new carbon guides are weak? Think again.
"Of course, we did strength and durability testing," says Falk. "They tested much more rigid than a stainless steel guide and frame. And while they don't bend or deflect like traditional guides, it actually took twice as much force to break them in our testing."
The end result of pairing the new Legend Xtreme blanks with the Daiwa AGS carbon fiber guides is a rod that goes far beyond what anglers previously considered sensitive. In a way, it feels like there are no guides at all. "When a fish bites, the sensation is intense and immediate," summarizes Falk, "but the technology doesn't end there."
Getting a Handle on Sensitivity
The process of making a rod this sensitive shouldn't ignore the critical connection point between rod and angler. That's why St. Croix developed an all-new handle worthy and on par with the rest of the astounding, new Legend Xtreme.
"Our first generation Xtreme-Skin™ handle is an incredible performer, but we wanted to take the opportunity afforded by the new Legend Xtreme launch to improve upon it by creating an even better handle with both improved grip and heightened energy transfer," says Falk. "We came up with a rain drop coating that offers more friction points, a grippier coating, and not just a smooth surface like the generation before."
The result is the Gen2 Xtreme-Skin handle, which improves handling in both wet and dry conditions and transmits feedback from the rod better than ever before. It's also extremely resilient. "Through our salt spray tests we discovered it's also very easy to clean and very durable," says Falk, who opted to pair the new handle with the Fuji® SK2™ split reel seat. "The entire handle assembly is lightweight and extremely durable, while complementing the sensitivity of the overall package."
Meet the New Legend Xtreme Models
The new Legend Xtreme Series includes seven rods — four new casting models and three new spinning models – covering a wide range of technique-specific applications. Anglers will find specially designed spinning models optimized for jerkbaits, finesse fishing, general plastics use and more, as well as casting models designed specifically for everything from flipping to frogging.
On the spinning side, the XFS68MXF is a 6'8" medium power, extra-fast action rod suited for jerkbaits, smaller crankbaits and more, while the  XFS610MLXF 6'10" medium-light power, extra-fast action rod shines for Ned Rigs and other finesse applications. Lastly, the versatile XFS70MF 7' medium power, fast action rod excels in a host of presentations, especially plastics.
Taking a closer look at the casting lineup, the XFC70MF is a 7' medium power, fast action rod that's a perfect choice for plastics and small-to-medium jigs. Anglers will appreciate the XFC70MHF 7' medium-heavy, fast action model for everything from topwaters to flipping. The XFC71MHXF 7'1" medium-heavy, extra-fast makes a great swim jig rod and more, while the XFC74HF 7'4" heavy power, fast action rod does double duty for flipping and frogging.
New St. Croix Legend Xtreme Features
Blending St. Croix's highest-grade materials and proprietary technologies with Daiwa AGSTM guides, the Legend Xtreme has extreme sensitivity that begs to be fished
Integrated Poly Curve® (IPC™) mandrel technology
Advanced Reinforcing Technology™ (ART™)
Taper Enhancement Technology (TET) blank design provides curved patterns for improved action with increased sensitivity
Super high-modulus SCVI carbon with FRS in lower section for maximum power and strength with reduced weight
High-modulus/high-strain SCV carbon with FRS and carbon-matte scrim for unparalleled strength, durability and sensitivity
Daiwa AGSTM Carbon Fiber Guides with Fuji KG Tip Top with Torzite ring
Fuji® SK2™ split reel seat for the ultimate in light weight and sensitivity
2nd Generation Xtreme-Skin™ handle provides unparalleled control.
Kigan titanium hook-keeper.
Machined wind check, handle trim pieces and butt cap.
Two coats of Flex-Coat slow sure finish.
15-year transferable warranty backed by St. Croix Superstar Service.
Designed and handcrafted in Park Falls, U.S.A.
Classic Contenders
BASS Elite pros, Brian Snowden and Bob Downey, have played significant roles in on-the-water testing of the new Legend Xtreme Series and are excited to be using the rods throughout practice and competition on bass fishing's grandest stage, the upcoming 2020 Bassmaster Classic in Birmingham, Alabama, March 6-8.
"When I first saw it, I was just very impressed with the look of the new Legend Xtreme and was intrigued by the carbon fiber guides," says Snowden, "and then I picked it up." His first physical response was to the new Gen2 Xtreme-Skin handle. "I loved the handle. The feel is comfortable and sticky with a new textured finish that feels not only more secure in my hand, but also more rigid for better energy transmission."
And then he fished them.
"These new Legend Xtreme rods are incredibly sensitive," says Snowden, who recalls fishing the 7' medium-heavy power fast action Xtreme (XFC70MHF) at the BASS Elite tournament at St. John earlier this month with 1/8- and 3/16-oz. jigs in the pads. "Even with these light jigs, I could tell the difference between my lure hitting the roots of the pads versus it hitting the soft bottom. I thought I had a bite the first couple times it happened… then I did get a bite and the feedback through the rod was shocking and immediate. I can't wait to fish these rods on deep structure  and a hard bottom back home on Table Rock," he continues. "These rods are amazing in shallow water, but they are really going to shine during deep structure fishing in the summer with 60-80 feet of line out on a ledge or a brush pile."
Downey is equally excited by the shocking performance characteristics of the new Legend Xtreme.
"The overall look and performance of the all-new Legend Xtreme is just stunning," says Downey. "What St. Croix has accomplished with respect to sensitivity with these rods is truly unparalleled. Until you fish these rods, it's hard to understand just how awesome the performance is. I've spent a lot of time with the with the 7' XFC70MHF model, specifically, and it has already provided a great advantage for me fishing bottom-contact baits like Texas-rigged Beavers. The rigidity of the guides and the handle just translate bites – and whatever my bait is doing – better than anything I've ever experienced. I'm incredibly excited and proud to be carrying these advantage-laden weapons with me onto the water at Guntersville."
Snowden expects to find a lot of bass in 5- to 10-feet of water when the Classic kicks off on Lake Guntersville early next month. "The docks will definitely be in play, as will shallow grass beds," he says. "In addition to their sensitivity – which is going to easily telegraph strikes on the fall – these Legend Xtreme rods are also extremely accurate when flipping and skipping, so it's going to be the ideal tool. The tips seem quicker and the rods also seem to have more power when compared to others with the same specs… they come back to straight almost instantly, yet they are soft enough for lighter lures," adds Snowden, who also expects to deploy his 7'4" heavy power, fast action Legend Xtreme (XFC74HF) for swimbait duty over the shallow grass. "Maintaining contact with that grass is going to be key, and with the sensitivity and immediate feedback of Legend Xtreme, I'm going to know what my swimbaits or chatterbaits are doing at any given moment. That really builds a lot of confidence."
Of course, Downey and Snowden won't be the lone representatives of the new Legend Xtreme Series in Birmingham. The St. Croix Team will be on hand throughout the competition, giving anglers firsthand opportunities to see, feel and experience the new Legend Xtreme for themselves.
"The entire St. Croix Team is looking forward to this year's Bassmaster Classic," says Simpkins. "It's obviously going to be particularly fun and exciting in the St. Croix booth, due to the significance of the Legend Xtreme launch… seeing and hearing the reactions of anglers when they pick up the rod for the first time is what makes all our effort and investment worthwhile. But it's going to be equally rewarding and exciting talking with them about our overall sensitivity testing and enhancement program… how the specific St. Croix rod series they are currently fishing are going to be able to be improved to result in a heightened fishing experience. And even if you strip all this exciting news away, we're still just pleased to be out there talking with anglers about where and how they fish and how we can keep making better products. That's what we've always done, and what we promise to continue doing."
New St. Croix Legend Xtreme models will retail in the range of $630-$650, and will be available for purchase online at https://stcroixrods.com/collections/rod-shopper and at participating St. Croix dealers on Friday, March 6.
#stcroixrods
About St. Croix Rod
Headquartered in Park Falls, Wisconsin, St. Croix has been proudly producing the "Best Rods on Earth" for over 70 years.  Combining state-of-the-art manufacturing processes with skilled craftsmanship, St. Croix is the only major producer to still build rods entirely from design through manufacturing.  The company remains family-owned and operates duplicate manufacturing facilities in Park Falls and Fresnillo, Mexico.  With popular trademarked series such as Legend®, Legend Xtreme®, Avid®, Premier®, Tidemaster®, Imperial®, Triumph® and Mojo, St. Croix is revered by all types of anglers from around the world.
//.