Mojo Trout Fly Wins Best New Fly Rod ICAST 2018
November 17, 2018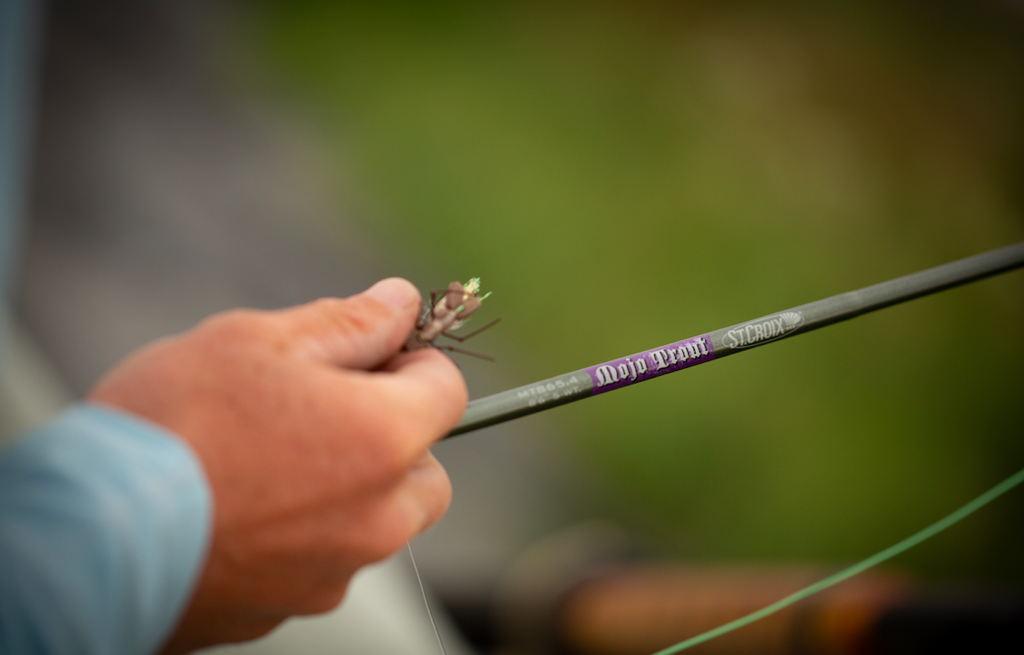 Mojo Trout Fly Wins Best New Fly Rod ICAST 2018
Good trout fishing isn't too hard to find. Affordable, versatile and smooth-casting fly rods designed for a myriad of trout fishing applications and techniques shouldn't be either. This line of thinking is the inspiration behind St. Croix's all-new series of Mojo Trout freshwater fly rods.
Available in September of 2018, the Mojo Trout series consists of 11 new beautiful and dutiful two- and four-piece models ranging from 6'0" to 9'0" in length and covering the all-important 2-7 trout fishing line weights. The result is a full quiver of premium, high-modulus SCIII graphite fly rods to cover all trout-specific fly fishing applications – without breaking the bank.
A passionate, lifelong fly fisherman, St. Croix National Accounts Manager Dan Johnston expects the new Mojo Trout fly rods to be extremely popular with beginning and intermediate anglers, but believes they'll find homes in the arsenals of fly anglers of all experience levels. "Yeah, they're that good!" says Johnston. "These are extremely smooth-casting, versatile fly rods that will definitely be appreciated by beginning to mid-level anglers. But their quality components, medium-fast actions, St. Croix Superstar Service warranty and moderate pricing make them an appealing choice for anyone," he continues, "including seasoned fly anglers looking to add niche rods to their collections as well as fishing guides."
Mojo Trout Fly Rod Models
MT602.2 / 6'0", 2-Wt, 2 Pcs.
MT663.2 / 6'6", 3-Wt, 2 Pcs.
MT703.4 / 7'0", 3-Wt, 4 Pcs.
MT793.4 / 7'9", 3-Wt, 4 Pcs.
MT804.4 / 8'0", 4-Wt, 4 Pcs.
MT864.4 / 8'6", 4-Wt, 4 Pcs.
MT904.4 / 9'0", 4-Wt, 4 Pcs.
MT865.4 / 8'6", 5-Wt, 4 Pcs.
MT905.4 / 9'0", 5-Wt, 4 Pcs.
MT906.4 / 9'0", 6-Wt, 4 Pcs.
MT907.4 / 9'0", 7-Wt, 4 Pcs.
Mojo Trout Fly Rod Features
Premium, high-modulus SCIII graphite.
Slim-profile ferrules.
Kigan Master Hand 3D stripper guides with aluminum-oxide rings and black frames.
Sea Guide® snake guides with black PVD coating for extra hardness and increased smoothness.
Uplocking, machined-aluminum reel seat.
Premium-grade cork handle.
Kigan hook-keeper.
Two coats of Flex-Coat slow cure finish.
Includes cloth rod sack.
5-year warranty backed by St. Croix Superstar Service.
Smooth and versatile moderate-fast action.
Designed in Park Falls and handcrafted in Fresnillo, Mexico.