Meet Our Machinery
St. Croix International Sales Representative, Greg Goddard
August 17, 2023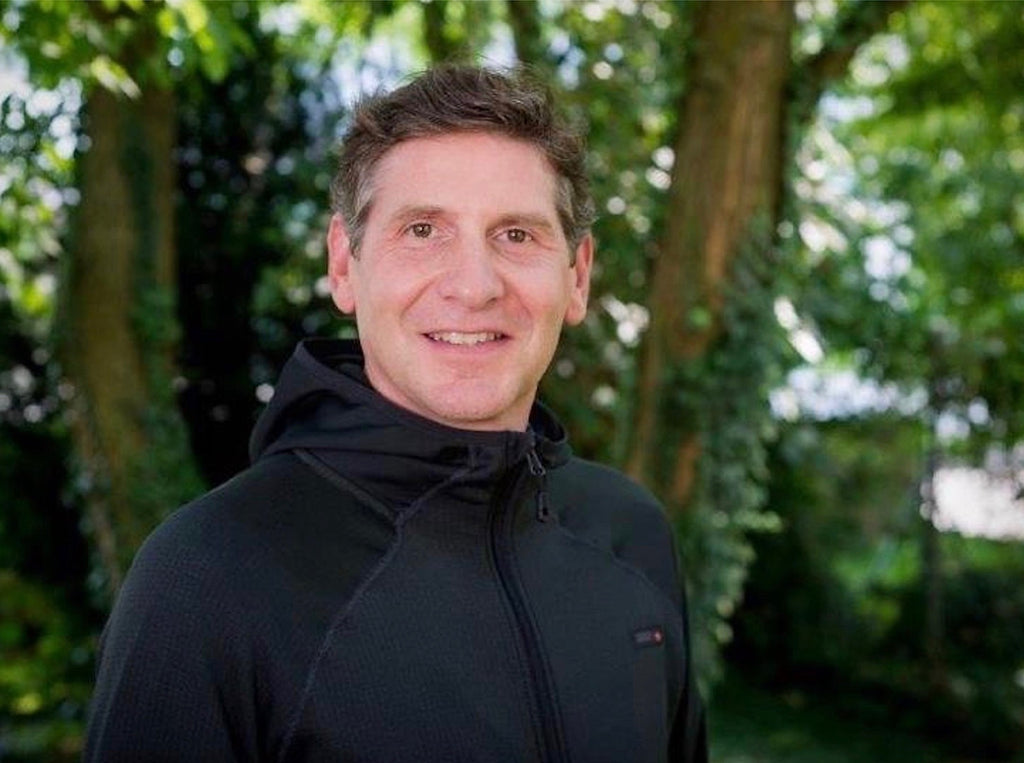 St. Croix Rod exists to provide all anglers the upper hand with the Best Rods on Earth, no matter where on Earth they're located.
Enter Greg Goddard; it's his job to work with fishing tackle distributors and retailers outside of the U.S. to get St. Croix rods into the hands of passionate, international anglers.
Greg grew up fishing the small ponds and lakes of Eastern Pennsylvania for bluegill, bass, and pickerel and developed a special passion for fly fishing at an early age.  "I still travel every spring to the Upper Delaware River, where I spend as much time as possible chasing the wild trout of the West Branch with my father and cousin," says Goddard, who has lived in Europe and Asia for the past 22 years. Currently a resident of Switzerland, Goddard says there's pretty good trout fishing in the foothills of the Alps within a couple hours drive from his home. He's also traveled to fish in many other wild and exotic places as well. "My wife is from New Zealand, so I've had the good fortune to be able to fish there many times, too," he adds.
Goddard brings 25 years of experience in the outdoors industry to his position of International Sales Representative for St. Croix. Before coming to St. Croix two-and-a-half years ago, he worked for Columbia Sportswear Company, where he earned additional focused experience in the development and management of international markets.
In addition to loving fishing, Goddard says he very much enjoys interacting with diverse people and experiencing different cultures. "I consider myself very fortunate to be working in an industry that I love, and I enjoy meeting and dealing with other people who are passionate about fishing," Goddard says. "There are so many unique and interesting cultures on this planet, with fisheries that are just as special and distinct. That's one thing I really appreciate about my work."
While Goddard's job certainly has challenges, he says representing a premier brand like St. Croix also makes his work especially enjoyable. "As it is in the United States, St. Croix is widely viewed by anglers throughout the rest of the world as premium, high quality, high performance… a step above the rest," Goddard says, adding that his perception is backed up sales statistics. "Our top-selling series internationally are Legend Elite, Legend X, Legend Tournament, and Victory." Indeed, it seems International anglers have a strong affinity for the very best of the Best Rods on Earth."
Goddard says St. Croix's primary goal with respect to its international business is twofold. "We obviously want to increase brand awareness and, ultimately, sales, while opening up new markets, but that's somewhat secondary," Goddard says. "Just as we do at home in the USA, we put anglers at the center of our decision-making, which means designing, crafting, and making available rods that improve their on-the-water experiences based on specific needs, which can vary greatly from country to country, just as they do from region to region in the USA. This begins with listening to our international specialty retailers and distributors so we can continue to become more and more sensitive and responsive to their specific needs. It's a big job, but that's the goal and we're constantly improving," Goddard adds, "delivering rods that are technique- and market-specific."
Goddard says last year's introduction and this year's expansion of the Legend Tournament Pike Series is a great example. "These rods were designed and crafted from a blank slate to fully meet the needs of serious pike anglers around the globe. We listened to our partners and anglers and extended the series this year (for 2024) with a variety of two-piece offerings, which are very popular in Europe because they are easier to store in the generally smaller cars, homes, and apartments found here. Moving forward, international anglers will be seeing even more rods from St. Croix that are conceived and built with their specific needs in mind."
As they are in the USA, retailers are on the front lines when it comes to understanding angler needs and trends, and Goddard says he and St. Croix are appreciative of the relationships that have been built with international distributors and dealers. "We've been able to nearly double our international business in the past two years or so and opening new markets in key places possessing a lot of anglers like Brazil, Australia, and Norway have helped make that growth possible. We simply couldn't do that without some really amazing partners in distribution and retail," he says.
Thanks to its anglers, St. Croix enjoys a successful and growing business in its core domestic market, which gives the family-owned company a strong foundation on which to further develop its international business. "St. Croix's vertically integrated manufacturing, premium quality, and family-inspired level of service resonates with experienced anglers and specialist retailers in the international markets just as it does in the USA," Goddard says. "I am very pleased and proud to be a part of the St. Croix family and more excited than ever to go to work every day identifying and extending new levels of service to our international partners, which ultimately better serves the needs of even more anglers from all corners of the globe."