Meet Our Machinery
Dan Scherwinski
April 29, 2021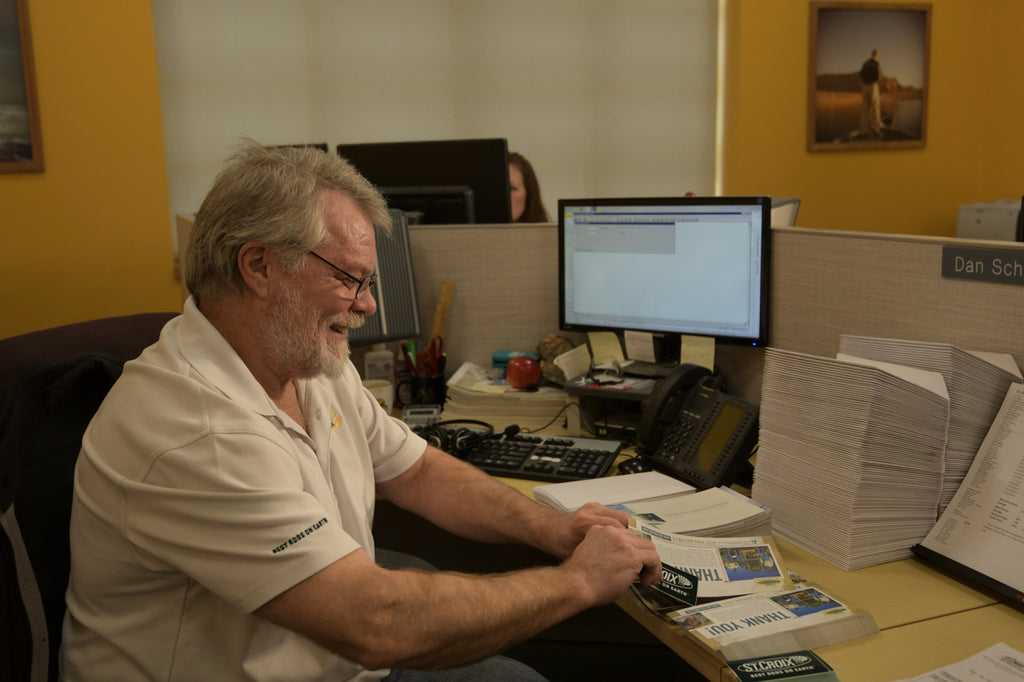 Customer Guide, Dan Scherwinski, works every day to keep anglers doing what they love
Customer Guide, Dan Scherwinski, has worked with the St. Croix Team since 1997. A passionate angler – just like the customers he interacts with on a daily basis – Scherwinski's knowledge of the Best Rods on Earth® is astounding.
"Dan may actually be the most knowledgeable person on our Team in regard to the rods we have produced , sold, and serviced over the years," says St. Croix Director of Marketing, Jesse Simpkins. "And given some of the people walking around in the building here in Park Falls – whose business it is to know about our products and heritage – that's no small statement."
Scherwinski's nearly 25 years with St. Croix, combined with his personal angling pursuits, make him uniquely qualified for his job as a Customer Guide, which entails answering just about any rod- or fishing-related question one could possibly imagine.
"It's basically just listening to anglers and being a sounding board for their questions. Helping anglers with rod selection, warranty and repair questions, and a lot of general fishing stuff," says Scherwinski, who landed in Park Falls 24 years ago by virtue of wedding a bride from Butternut, a small town just six miles down the road from the St. Croix Factory.
Scherwinski says there are many great things about working for St. Croix, but says the daily interaction with anglers is the best part. "Most people call with a specific question or issue they need help with, but that one question almost always leads to other opportunities to be of assistance," says Scherwinski, who adds that getting calls back from grateful anglers is something he most appreciates. "Some of the best experiences being a Customer Guide are the calls I receive back from our anglers, thanking me for solving their problem, giving them advise, or recommending the right rods for their fishing style and the species they are targeting."
Having not only a product expert, but a friendly, avid angler like Dan Scherwinski pick up the phone is something any angler who calls St. Croix for help appreciates. "I fish quite often for every type of species, from panfish to musky," says Scherwinski, who credits the Park Falls area for its exceptional angling opportunities. "We have a wonderful and diverse fishery here. I can drive 10 minuets in any direction and be on great water. I do think anglers appreciate it when they realize they are talking with someone just like they are. It puts them at ease."
When not fishing or at work, Scherwinski likes to hunt, garden, and spend time with his family, which is substantial. "I have 12 siblings, many nieces and nephews, four children of my own and eight grand kids!" exclaims Scherwinski, who credits his large family for helping to foster some of the communication skills he uses in his job on a daily basis. "Growing up as one of 13 kids, you quickly learn that you need to speak up and speak clearly, or you might not be heard," he says. "But listening, of course, is the other part of the job. That's even more important," he adds, pointing out that you can't enjoy a successful marriage for 25 years like he has without being a good listener. "To be able to help someone, you first have to understand, and that comes from listening. It's a skill some people never learn."
Scherwinski says he's seen many things change at St. Croix over the past 24 years, but notes the most important things have remained constant. "When you have consistent ownership and leadership like we've had from the Schluter family, it makes it easier to stay focused on the things that really matter, like remaining angler driven, the quality of finished product, and creating an environment where the entire Team can take pride in their craftsmanship and know that their work is helping anglers be more successful and giving them better fishing experiences," he says. "At the same time, though, we've never stopped innovating new technologies or expanding our product offerings to include new models that serve a greater number of anglers, or perform a defined presentation in a better way."
When it comes to a specific message he'd like to reinforce to any angler, Scherwinski says it's important to stay within the lure rating printed on every St. Croix rod. "There are years of design, testing, and development behind every rod," he says. "The lure rating states the range of lure weights any particular rod has been designed for and is integral to its performance. Stick to lures in those ranges and you can be sure your St. Croix rod is performing as it was intended," he advises. "The last thing I would like to pass along is to be careful with your fishing rods. St Croix rods are tools, but most damages happen when they are being misused, mishandled, or stored or transported without the proper care. Even so, we understand that all kinds of accidents happen, so know that St. Croix is here now – and will be here in the future – to stand behind our rods for your fishing needs and get you back on the water so you can keep doing what you love."