Inshore Fishing
Hot Bites From East to West
March 09, 2022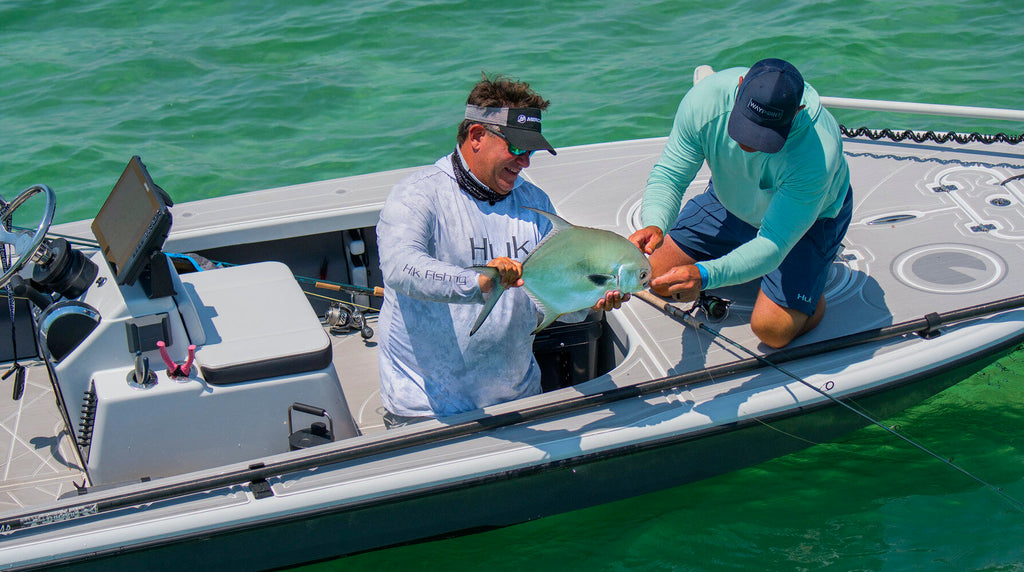 Angling angst is peaking across the US. Open-water fishing throughout the north and much of the country's mid-section has been stymied by Mother Nature for weeks or months. Depending on their location, many coastal anglers, too, are pining for the warmer water temperatures that bring increased angling opportunities. For most, this is the time of year when the angling itch is most persistent. The gear is prepped and there's so much to look forward to. But will winter ever end?
Resourceful anglers know there's always a way to scratch the itch, even during the waning weeks of winter. Steering for the nearest coast is a good bet. The fish are always biting somewhere, and our St. Croix pros in Florida, Texas and California are anxious to share three distinct inshore options for your angling consideration.
The Florida Keys
Laying claim to the southernmost geography in the continental USA, the Florida Keys are always open for the business of rewarding angling. "Key West will have the best permit fishing of the year in late February and early March," says St. Croix stick, co-host of the popular Saltwater Experience TV show, and host of the uber-entertaining and informative Tom Rowland Podcast, Captain Tom Rowland. "Fish are active, aggressive and willing to play ball for the fly fisherman or the spin fisherman."
Rowland says rising water temperatures bring fish that have been wintering offshore and in deeper channels back to the flats. "Cold fronts can negatively affect the fishing this time of year, so you are really looking for times in between fronts when the temperatures rise into the high 70's and the permit and bonefish will respond favorably. Early-season tarpon will also flood in on nice weather."
Rowland gets the best results free-lining live crabs to the permit, casting jerk baits for tarpon, and tossing small jigs or live shrimp to bonefish, adding that all of these species will also respond well this time of year to a properly selected and well-presented fly. His gear most often consists of a 7' St. Croix Legend Tournament Inshore spinning rod – the medium power model (LTIS70MF) for permit, and medium-light (LTIS70MLF) model for bonefish – as well as a 7' heavy power St. Croix Triumph Inshore spinning rod for tarpon. When casting flies, he selects a St. Croix Imperial Salt fly rod, typically an 8-weight for bonefish, a 10-weight for permit, and an 11- or 12-weight for tarpon.
When spin fishing, Rowland advises against the use of monofilament line. "Matching all the spinning rods up with a high-quality braided line is a must in my opinion," he says, "because it allows for at least 40% farther casting and will result in more fish. I like 15-pound braid for bonefish, 20-pound for permit and 20-30-pound for tarpon."
Rowland says sight casting from the bow of a skiff can be intimidating and often frustrating, especially when flyfishing. "Soft, accurate casts are often a must, and when the wind starts blowing it can be daunting even for experienced casters. Anglers without a lot of experience in this type of fishing should practice their fly casting before they go.  Get instruction from someone in your area who knows about saltwater flyfishing and flyfishing from a skiff. Some good instruction goes a long way!"
Saltwater Experience co-host and St. Croix pro, Captain Rich Tudor, says anglers visiting the Keys during cold weather snaps can still find good fishing. "The water levels are really low and we have some of the lowest tides of the year right now. Combine that with cooler water temperatures and it really concentrates fish in the deeper holes and channel edges." Tudor says those deeper holes can be anywhere from two to ten feet. "Those conditions can condense 100 acres of water into one acre," continues Tudor, who often targets concentrations of redfish and snook at low tide. "Then, if the water warms up those fish will spread out onto the flats once the tide comes up," he adds.
"In addition to numbers of fish, anglers can expect a lot of variability in size, both for the redfish and the snook," says Tudor, who keeps rigging simple and universally appealing, typically casting light bucktail jigs tipped with shrimp on a 7' medium-light power St. Croix Mojo Inshore or Triumph Inshore spinning rod with 15-pound braid and a 30-pound fluorocarbon leader.
Texas Coast
"Here in Texas, the hardcore anglers know this time of year is the time to catch big – and I mean really big – speckled trout," says St. Croix pro, tournament angler, and Texas native, Joseph Sanderson. "Grab your waders, head for waist- or chest-deep water where you find any bait whatsoever, and you have a really good chance at a fish of a lifetime."
Generally speaking, Sanderson advises wading anglers to look for a slightly muddier bottom because it may be a few degrees warmer than surrounding waters. "If you can find some grass mixed in, that doesn't hurt anything either," says Sanderson, who also urges anglers to be on the lookout for bait. "Bait becomes scarce this time of year, so if you see a mullet jump or a school of other baitfish scatter, that can be a really good starting point."
Sanderson says Matagorda Bay and Baffin Bay are two legendary Texas spots where anglers can chase the "gator" trout bite at this time of year. "February through April is prime time, and the prize you're after is a fish upwards of 28 inches. My personal best this time of year is 31.5" and pushing ten pounds," Sanderson adds.
A Corky is the bait of choice this time of year for Texas trout. It's a soft plastic suspending bait that Sanderson says anglers should plan on working painfully slow. "The fish are lethargic this time of year and are looking for an easy meal, so the suspending characteristics of a Corky really shine," he says. "It is a big, heavy bait, so this is the one time of the year that I put the medium-light power Mojo Inshore spinning rod down and pick up the casting rod. I like a 7' medium power, fast action Mojo Inshore or Triumph Inshore for this bite. It helps having a little beefier casting rod for the bigger baits and also aids in landing some of the more powerful slot redfish you might also hook up with. In the summer, I like a medium-light power rod, but not this time of year. The bite can be really subtle – even from a big fish – so I like rigging with 30-pound braid for sensitivity along with a 17-pound fluorocarbon leader."
Sanderson says late-winter trout fishing is anything but a numbers game. "You need to have patience to chase this bite," he says. "It would be comparable to swimbait fishing for largemouth bass in freshwater. You go out chasing two or three bites per day knowing the potential rewards. A 30-inch speckled trout compares to a 10-pound bass in my opinion, both of which are considered the pinnacle of the respective pursuits. Don't get discouraged if you have a few fishless days on the water, either. Those who are persistent will be rewarded."
Sanderson's final tip to late-winter speckled trout anglers is to stay mobile. "As the day warms, you might consider moving a little shallower," he says. "It isn't uncommon to catch these big fish in knee-deep water in the dead of winter. The shallow water warms quickly, and deeper fish will move up just as fast as the temperature rises. Keep your eyes peeled for any sign of bait or surface wakes. If there is surface activity, you are likely in a good spot."
Southern California
Anglers who may not know his name or job title will likely recognize Morgan Promnitz's smiling face, which is most-often seen peering from behind some massive saltwater fish he's gripping aboard his Hobie kayak. The Director of Fishing Development for Hobie, Promnitz makes his home in San Diego and is also a world-class and well-traveled angler who serves as a St. Croix pro and advisor.
"Southern California has some really consistent fishing in the surf and bays in late February and March," says Promnitz, who also regularly ventures offshore in his Hobie in search of the yellowtails that often remain off the coast of Southern California through winter and early spring. 
"The barred surf perch and halibut bites can be great right off the beaches, and surf anglers can expect plenty of croakers and corvina to keep things fun, too. Flyfishing is also a good option," says Promnitz, who adds area bays always have spotted bay bass, halibut and other species like corvina, croakers, and even bonefish, to name a few. "The halibut come into holes in the surf or patchy cuts in the reef to ambush baitfish that are in the shallow surf," he says. "Check the schedule on the grunion runs, as this is when the halibut like to move in close and gorge on the stragglers. Try a medium-light to medium power Mojo Inshore spinning or casting rod in that 7'-to-7'6" range with 10-20-pound braided line and a 12-20-pound fluoro leader," Promnitz advises. "That'll give you a really versatile outfit that pairs nicely with the wide variety of fish you might encounter along the beach. A 3" soft-plastic swimbait paired with a ¼-ounce lead head jig will draw bites from almost anything around here. A Lucky Craft SW 110 jerkbait does a good job at imitating grunion and is a deadly choice for halibut in the surf."
For perch, try fishing a 1.5-inch motor oil/red flake colored grub tail or brown/green gulp sandworm, Carolina rigged with a ¼-ounce egg sinker on an 18", four-pound fluorocarbon leader," Promnitz says. "Weight size and line size can go up depending on the conditions."
Promnitz says the bays stay warmer in the colder months and the fishery remains steady and is more consistent in winter when it's not too warm. "The bigger halibut come into the bays to spawn in the early spring, and larger barred sand bass hold on deeper structure in the mouth of San Diego Bay throughout the winter and can also provide some great action," he says. "For the bigger halibut and sand bass, step up to medium or medium-heavy power Mojo Inshore or Triumph Inshore rods and use lures in the ½-ounce-to-1-ounce range, especially in deeper water."
Promnitz says a 40+ pound fish in the bay is always a possibility. "There is plenty of bait in the bays during the early spring and water temps are ideal. They also provide shelter from winter storms and turbulent waters," he says. "Bay fishing is fun and exploratory fishing. You can fish shallow or deep, over open water over rock, sand, or grass, or in tighter spaces like docks, harbors and marinas. Everything from livebait fishing or casting and retrieving artificials to trolling, jigging and flipping comes into play here. It all depends on the species you are targeting and the technique you have the most fun with or confidence in."
Promnitz urges bay anglers hoping to target halibut, spotted bay bass or other larger species to remember that these fish are ambush predators. "Look at shapes of the fishery, the drop-offs, contours, grass beds and other structures, then consider tidal flow to try and locate where the predators will stage. A stop at a local tackle store or two will also pay dividends. Spend a little money in the store and you'll usually get some great intel to go along with your fishing goodies or snacks," he says. "You can also learn the better access spots. You can fish the beaches or bays on foot, but the bay can be more productive in kayak or boat."
Parting Words
Springtime will be here soon, but for millions of anglers locked in by ice and snow, that knowledge doesn't make the coming weeks any easier. What likely will make a difference is a trip to the coast – whether that's Florida, Texas, California or somewhere else. So, take steps to improve your angling outlook. Gear up, then follow our pros' advice on the whats, wheres, and hows.
Indeed, the fish are always biting somewhere.