Caleb Kuphall Joins St. Croix Pro Team
March 09, 2022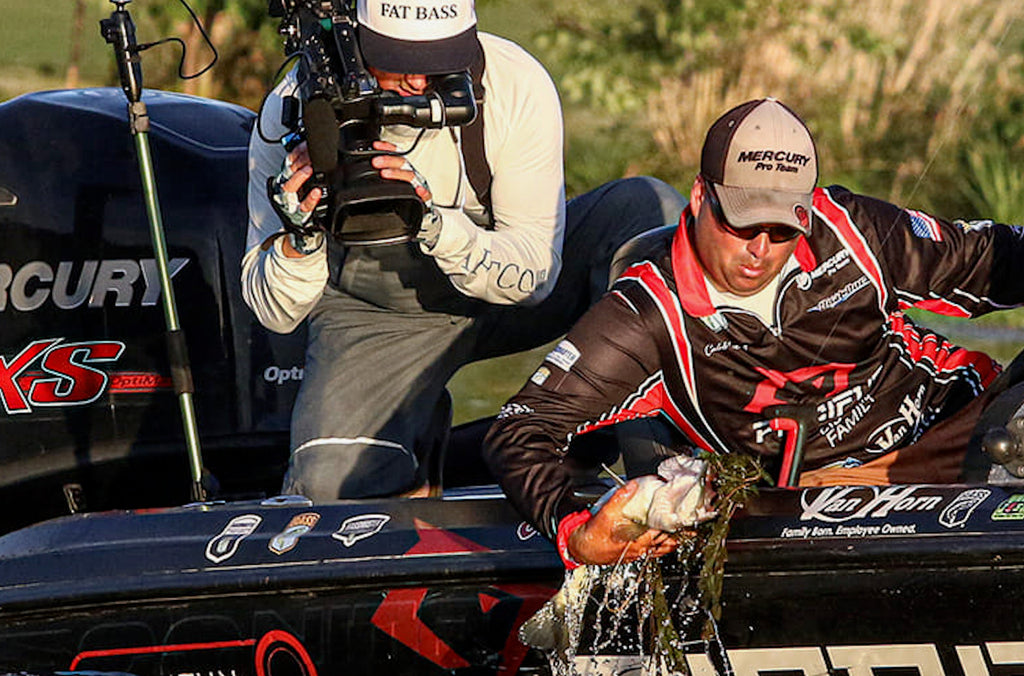 Photo courtesy of B.A.S.S.
Wisconsin-based tournament angler, Caleb Kuphall, has earned ample acclaim over the past three years. Of the 23 Bassmaster events the Mukwonago, Wisconsin angler has entered, he's had four top 10s and finished in the money 22 times. He spent just one season fishing the Bassmaster Opens in 2019, winning the 2019 Central Open at Lewis Smith Lake to qualify for the 2020 Bassmaster Classic and finishing second in the Central Division points race to earn a spot in the Bassmaster Elite Series. Last season, in just his second year fishing the Elites, the 38-year-old angler won the Bassmaster Elite tournament at Lake Guntersville.
Bass fishing set its hooks into Kuphall (pronounced Koo-fall) at the age of ten when his family moved into a new home and Caleb gained access to a couple of farm ponds. "I read every bass-fishing article I could get my hands on, watched all the TV shows, and worked in tackle shops as a teenager," he says. "As soon as I had saved enough money to buy my fist bass boat, I started fishing tournaments. I loved fishing so much that I wanted to surround myself with other anglers, so I started guiding, too. That gave me a lot of time on the water and I learned just as much from the other anglers in my boat as they learned from me."
Throughout his formative years, one part of Kuphall's fishing remained consistent. "Living in Wisconsin, I have always used St. Croix rods. The fact that they are handcrafted in my home state has always been really important to me and I've been happy to support the local brand," Kuphall says. "But aside from that local connection, there are no rods on the market I would rather use. They simply make a superior product that helps make me a better and more consistent angler. I recently toured the factory in Park Falls and got to see the operation up close and personal. I was very impressed with what I saw – from how each blank is individually designed and rolled, to the extreme amount of care and pride each set of hands puts into every rod they touch. After using and appreciating St. Croix rods my entire life, I couldn't be happier to be officially representing the Best Rods on Earth® as a member of their Elite Staff. My success as a tournament angler comes from my dedication to the sport and the time I put in on the water. There's no substitute for time on the water; perfecting a craft and putting yourself in as many different situations as possible so you come out better than you were yesterday. That's the same thing St. Croix believes and has done every day for the benefit of anglers for over 70 years now."
Kuphall strives to be a complete bass angler but admits jig fishing is his number-one confidence presentation. "All styles of jigs, but a flipping jig would be my confidence bait," he says. "Number two would be heavy flipping, especially in submerged milfoil. I learned to do a lot of this around the house growing up and love every aspect of it." He says his favorite rods have changed over the years. "The 7' Avid and Avid X MHFs were my stand-by jig rods for many years. These were incredible rods, but the equivalent Legend X, Victory, and Legend Xtreme versions St. Croix is crafting now are even better, which seems hard to believe at first, but not after you consider we're talking about St. Croix. They are constantly listening to anglers and giving them new tools to heighten their performance. No matter what you can afford to spend on a rod for a certain presentation, St. Croix has anglers covered."
Self-described as "super competitive", Kuphall says his goal is to have a long and consistent career in the Bassmaster Elite Series. "I've always played a lot of sports… hockey, baseball, and I still enjoy playing league softball in the summertime… so I guess that's where it comes from. I always want to beat the next guy, but I also want to be known and viewed as a good person. I'm always there to help if someone needs it, but I also like the thought of being feared on the water." Kuphall also does a lot of bait tinkering. "I like to design baits and I make a lot of my own jigs, spinnerbaits, heads and pour my own soft plastics, too."
St. Croix Angler Engagement Coordinator, Savannah Stenlund, says she and the rest of the St. Croix Team couldn't be happier or more excited to welcome Kuphall to the team. "Caleb has proven himself an extremely talented angler; he's one of those gritty, versatile northern guys with that Midwestern work ethic who can do well, compete, or even pull out a win almost anywhere," she says. "But beyond that, he's also a really likeable and helpful professional who understands the business we're all in and has proven that he's willing to help the Team with whatever's needed."
"Even though I've been at this for a few years now, financing a professional bass fishing career isn't the easiest thing to do," Kuphall relates. "I've spent money wisely, controlled expenses, and slept in my truck, because that's what it takes sometimes.  I'm grateful for St. Croix's support and to B.A.S.S., as well as the support of my other long-time sponsors, my family, and God. I wouldn't be where I am without any of them.
#stcroixrods
About St. Croix Rod
Headquartered in Park Falls, Wisconsin, St. Croix has been proudly producing the "Best Rods on Earth" for nearly 75 years.  Combining state-of-the-art manufacturing processes with skilled craftsmanship, St. Croix is the only major producer to still build rods entirely from design through manufacturing.  The company remains family-owned and operates duplicate manufacturing facilities in Park Falls and Fresnillo, Mexico.  With popular trademarked series such as Legend®, Legend Xtreme®, Avid®, Premier®, Imperial®, Triumph®, Mojo, and BASSX, St. Croix is revered by all types of anglers from around the world.