Handcrafted in North America
January 28, 2021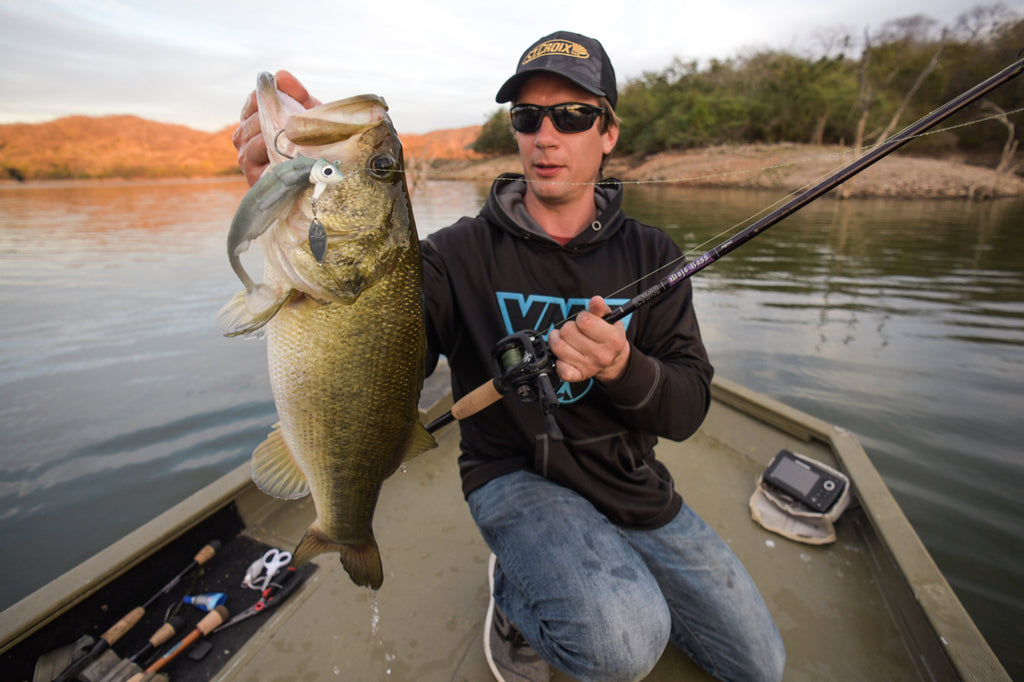 How St. Croix goes about crafting the Best Rods on Earth® for any angler
Park Falls, WI (January 25, 2021) – You've probably heard it or read it; St. Croix has been handcrafting the Best Rods on Earth in Park Falls, Wisconsin for over 70 years.
On the surface, the statement is just what it seems. St. Croix employs nearly 400 people, many of whom use their hands to combine the best raw materials and technologies, transforming them into the fishing tools that give anglers the upper hand in any situation. Yes, St. Croix utilizes advanced machines, computers and tooling to produce its rods in Park Falls, Wisconsin, and that equipment has continually evolved over the past 70 years, but it has always been guided and executed by skilled human hands. It's true; at least 32 sets of hands come in contact with your St. Croix rod before it reaches yours, and it takes extreme commitment and attention to detail from all of them to deliver the rods St. Croix anglers expect – rods that elevate their fishing experiences.
But there's a deeper meaning, too; one that's more difficult to fully explain. We can start by understanding that Best Rods on Earth is much more than a simple marketing slogan; it's a guiding statement equivalent to a personal, daily affirmation that reminds, encourages and empowers every St. Croix team member to be angler driven. Simply stated, an angler's pride and satisfaction with a St. Croix rod is St. Croix's pride and satisfaction as a company. Make sense?
Also understand that anglers are diverse with specialized rod needs that go beyond the key metrics of length, power and action. St. Croix has consistently proven it can build any specific rod an angler could want or need, and craft it with exceptional performance characteristics. But the real victory – for angler and company – comes when St. Croix delivers such a rod at a price any angler can afford and is willing to pay. The company accomplishes this, largely, through a deliberate, vertical manufacturing strategy.
Vertical Manufacturing
Within the realm of fishing, vertical is a presentation. It means covering any part of the water column directly beneath the angler. In the context of manufacturing, vertical means owning or exercising increased control over the elements within the value chain, which consists of all the businesses and individuals that play a part in the manufacturing process. Vertically integrated manufacturing provides significant benefits when it comes to product manufacturing, assembly and supply, including reduced lead times, increased quality, and cost control, to name a few.
For St. Croix and its anglers, vertical manufacturing means the company doesn't rely on anyone else's rod blank designs or manufacturing; it is free to innovate and consistently deliver rods with unique combinations of technologies, materials, performance and value that improve the angling experience.
St. Croix South
Being angler-driven is a part of St. Croix's DNA, so many of the rods it makes are specifically requested by anglers, often because they can't be found anywhere else. Sometimes, these rods are crafted in Park Falls. In other cases, rods that appeal to a wider range of anglers are best delivered by the skilled hands at St. Croix South.
"St. Croix Rod owns outright and operates a manufacturing facility nearly identical to our Park Falls, Wisconsin factory in Fresnillo, Mexico," says St. Croix Director of Operations, Jason Brunner. "The layouts are the same. The equipment is the same. The technologies, materials and manufacturing processes are the same. The only things that are different are the sets of human hands forming and adding value to the Best Rods on Earth." Some of the rod series currently produced at St. Croix South include Mojo, Bass-X, Triumph, Eyecon, Panfish and Trout.
Brunner reports that while St. Croix has been making rods at St. Croix South since 2006, the company acquired full ownership of the facility in the spring of last year. "This is a big deal for St. Croix and our anglers, because we no longer have a middleman," Brunner says. "We now fully run the operations, which has increased both productivity and quality."
Brunner makes frequent trips to St. Croix South, where he meets with staff to discuss general manufacturing issues, inventory, production schedules, quality assurance procedures, efficiency improvements and more. "They're the same kinds of challenges we deal with daily in Park Falls," says Brunner. "We have a great team in Fresnillo. If something  works especially well in Park Falls, we try to apply the same concept at St. Croix South. And their creativity and problem-solving is resulting in improvements in Park Falls, too. Every change that's made is done so with the best interests of anglers in mind."
Brunner relies heavily on Plant Manager, Jesus Mario Rodriguez, to keep operations running smoothly at St. Croix South.
"I lead our team of 204 people to complete production and delivery – on time – of the Best Rods on Earth," says Rodriguez. "Each team member at St. Croix South is keenly aware of the history, mission, and prestige of the brand and takes great pride in crafting these rods for anglers. All of our equipment, materials, and processes are identical to those in Park Falls, but the building here is newer. That's about the only difference," Rodriguez adds. "It's a very nice work environment and our team members love coming to work here."
St. Croix's state-of-the-art Fresnillo manufacturing facility allows the company to build rods that appeal to a wider range of anglers. Ultimately, it's anglers who win when operational costs are lowered and materials, workmanship and manufacturing processes remain at the same high standard. St. Croix South-built series like Triumph Freshwater and Saltwater, Mojo Freshwater and Saltwater, Bass-X, and Eyecon speak for themselves, all of which enjoy extreme popularity with anglers worldwide.
COVID-19 placed stresses on all forms of manufacturing in the past year. "Manufacturing is always a challenging and complex process, and last year's shutdowns didn't make things any easier," says Brunner. But he points out that almost any dark cloud can have a silver lining. "We were shut down for almost 6 weeks. We took ten steps back to look at how we operate. Like a lot of individuals did, we reset. We figured out what we could do better with respect to staffing, managing and shipping orders and managing flow… things that are almost impossible to do while you are running. We took advantage of the opportunity to make small changes that have had big impacts. We look at things differently now."
Rodriguez agrees. "We are producing more rods in both facilities now than we ever have before, without sacrifice to our quality," he says. "Any great company is constantly evolving… looking for ways to make improvements. But just because something works well – whether that's a fishing rod or a manufacturing process – doesn't mean it can't be improved. COVID-19 gave us the opportunity to make many improvements for the benefit of our anglers."
Parting Words
For St. Croix and its anglers, "Handcrafted in North America" means employing passionate people to transform the highest quality materials into the Best Rods on Earth, classified as such by virtue of their remarkable performance characteristics, overall quality, and ability to elevate any personal angling experience. Whether it's a father and son Canadian fly-out, an inshore adventure, catching bluegills in a farm pond, or competing in the Bassmaster Classic, rest assured that your handcrafted St. Croix fishing rods have been conceived and delivered to give you the upper hand while maximizing your satisfaction on the water.
St. Croix's team members in Park Falls and Fresnillo make certain of it.
#CROIXGEAR
Like the rods? You'll love our lifestyle apparel. Shop now!