Customer Appreciation Day Save the Date!
April 25, 2022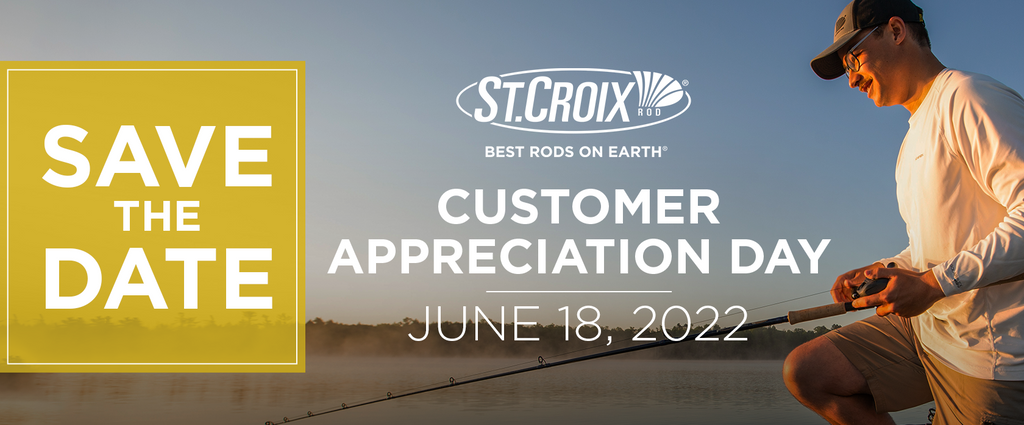 St. Croix Customer Appreciation Day Returns to Park Falls on Saturday, June 18
St. Croix Rod has been celebrating anglers for 75 years by putting you at the heart of everything we do. Our Customer Appreciation Day is an outward example of that celebration and includes full slate of fun and exciting opportunities for anglers here at our factory in Park Falls, Wisconsin. It's a celebration of fishing with fellow St. Croix enthusiasts from around the world.
Anglers attending Customer Appreciation Day are drawn into the St. Croix family and experience something no other rod manufacturer offers on such a personal level. The unique event will include prize drawings every hour on the hour, live music, free food, ample educational opportunities with expert anglers and St. Croix staff, and special deals on all things St. Croix, from rods to apparel and more. Angler education seminars will also be livestreamed for virtual participation.
Save the Date! St. Croix Customer Appreciation Day 2022 will take place live and in-person on Saturday, June 18. Full details for both in-person and virtual components will be announced closer to the date of the event. Angler Appreciation Day is family friendly, and all are welcome!
Anglers can learn more and stay up to date with planning for St. Croix's 2022 Customer Appreciation Day event by following St. Croix on Facebook and Instagram, by subscribing to the St. Croix Enewsletter, or by checking back regularly at stcroixrods.com.