Bass Fishing
Youngest AOY Ever?
September 16, 2021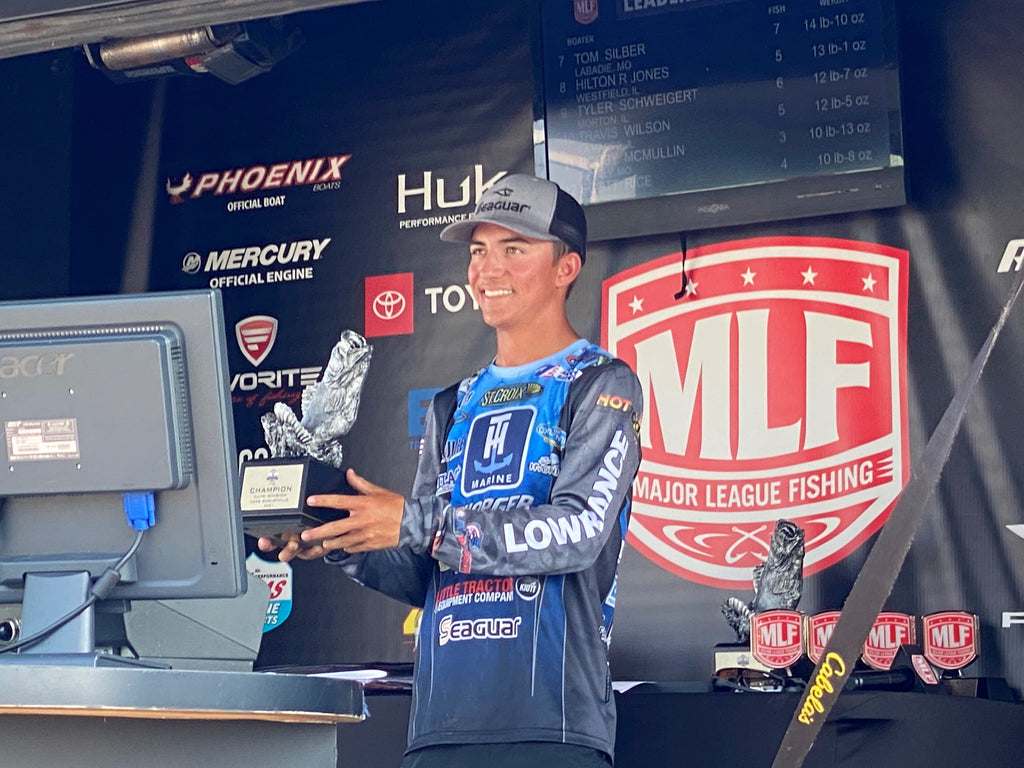 At just sixteen years of age, Trey McKinney of Carbondale, Illinois has racked up an impressive list of competitive bass-fishing accomplishments. He's already won three junior-division national championships, and garnered national acclaim by becoming the first-ever angler to win both the B.A.S.S. and FLW Junior Championships in the same year.
Now, with the 2021 MLF Phoenix Bass Fishing League Illini Division season complete, the talented young angler can add another title to his resume: MLF Phoenix BFL Illini Division Angler of the Year (AOY). McKinney earned the honor by virtue of his individual performances in five BFL Illini tournaments, culminating in last weekend's win at the MLF Phoenix BFL Illini Division Super Tournament on Southern Illinois' Lake Shelbyville. McKinney may be the youngest angler ever to win a prestigious Phoenix BFL AOY title.
"It was challenging fishing. The fish were spread out and there was really no best pattern," McKinney says. "I was mostly working the backs of pockets and the main-lake points… kind of a junk pattern, but when I did find them on the graph I was able to catch them pretty good on a Strike King Jig."
The St. Croix junior angler had a solid day-one performance. "I caught 11 keepers – mostly on the jig, but a couple on a Scum Frog Launch Frog – so I was able to just keep grinding and cull up a bit throughout the day," says McKinney, who ended day one in 4th place with a five-fish limit weighing 11-07.
"We caught fewer fish on day two, but they were better ones," McKinney adds. "I got eight or nine keepers in similar spots, and the five best ended up weighing 19-07." Again, McKinney says most of the bass came on a jig presented on a St. Croix Victory 7'3" medium-heavy power, fast action casting rod, but he did throw a finesse worm into the mix on day two on a 7' medium power, fast action St. Croix Legend X spinning rod. At the end of the competition, McKinney's combined two-day bag of 30-14 was over five pounds heavier than that of second-place finisher, Bradley Smith (25-06) of St. Jacob, Illinois. Scott Neighbors of Makanda, Illinois (24-7) finished third.
Winning both the Shelbyville Super Tournament and the Illini AOY Title qualifies McKinney two different ways to fish the MLF Phoenix BFL Regional Championship on Mountain Home, Arkansas' Norfork Lake, October 7-9.
"I've never fished Norfork, so we'll try to get some pre-practice time just to get out on the water and get a feel for it, then we'll take advantage of whatever official practice time is offered," says McKinney, who credits his family, his faith, and his coach, Rick Cheatham, as being instrumental in supporting him throughout his career. "My faith and family have always been there for me, and Rick has really helped me take my fishing to the next level over the past few years," McKinney says, referring to his friend, fishing coach, mentor, and fishing partner, semi-retired bass pro, Rick Cheatham of Carterville, Illinois. "I know I would not be where I am today without God's many blessings, which include the help and support of those around me like Rick, my family, and companies like St. Croix Rod."
Keep up with Trey through his TV show, Facebook, and Instagram.
About the MLF Phoenix Bass Fishing League
The MLF Phoenix Bass Fishing League presented by T-H Marine is for the weekend angler, featuring one-day tournaments in 24 divisions across the country that provide advanced competition and lucrative payouts. Each division features four, one-day qualifying tournaments that pay as much as $13,000 to the winning boater and $3,000 to the winning co-angler, plus a two-day super tournament offering top awards of $16,000 and $4,500, respectively. Only in the Bass Fishing League can you fish a one-day tournament close to home with advancement opportunities to nine no-entry-fee championships, including the prestigious Bass Fishing League All-American and Toyota Series Championship