Angling Currents
Deep Sea Fall Fishing
September 07, 2021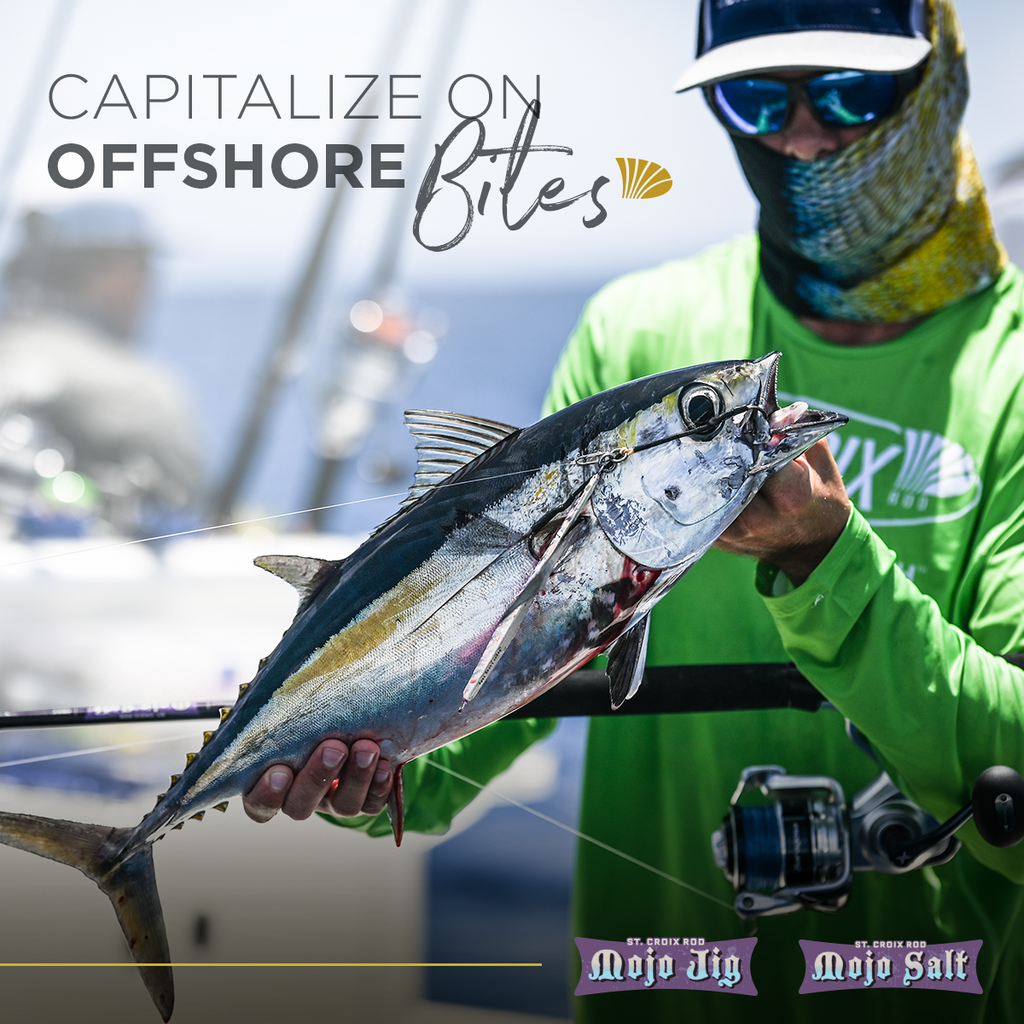 ANGLING CURRENTS: Capitalize on Hot Offshore and Nearshore Bites Happening Right Now


 
Relatively few coastal anglers run battlewagons – sport fishermen or large center consoles capable of blasting 100 miles offshore on any given day. Most opt for more manageable rigs like smaller center consoles and bay boats that deliver great economy and increased versatility – ideal for inshore and nearshore use, while retaining the ability to fish farther offshore when conditions allow.
 
"You've got to pick your days but having the ability to trailer to different launches and fish where you want – or where the weather allows – can be a huge advantage," says Deland, Florida-based angler and fishing-industry promoter, Joe Balog, who routinely runs his Ranger Bay 2360 10 to 20 miles offshore to capitalize on the consistent bottom fishing on Volusia County's numerous artificial reefs.
 
"September and October can be great months off Florida's Northeast Coast," Balog says. "It's mostly a barren, sand landscape out there, so these artificial reefs are magnets for all kinds of fish – a lot of various snapper species, along with grouper, triggerfish, porgies, you name it, usually in mid-depths of 60 to 80 feet of water. You'll also find some pelagic species hanging around out there, too," Balog adds. "The best part for anglers is that these aren't super-distant or secret spots. They show up on most mapping chips."
 
But just because these locations may be well known and easy to access doesn't mean they're easy to fish. Precision is key. "You've got to fish right to the edges of these reefs," advises Balog, who positions his boat where it needs to be based on wind and current conditions and keeps it there using the Spot Lock feature on his trolling motor. "Once you're in position, it's largely standard bottom fishing with four-to-eight-ounce sliding fish-finder rigs and cut bait," he says, "but you've got to use gear that's capable of getting these fish up and away from the reef quickly."
 


 
To that point, a lot of the reefs on Balog's milk route are constructed from concrete culverts and other construction debris, so they can be – in his words – incredibly snaggy. He opts for 5'8" heavy power St. Croix Mojo Jig rods to turn big bottom species before they can bury themselves in the rubble. Those first few cranks and rod pumps are critical. "These are short and powerful sticks that do a great job of stopping big, 20-to-30-pound fish before they can get you into trouble, and they have great ergonomics that make fighting powerful fish easier for any angler."
 
While bottom fishing, Balog often freelines a live bait off the back of the boat. "It isn't uncommon to run into bonito, cobia, or amberjack around these reefs, so we've almost always got a livie out on a circle hook when we're bottom fishing. I like St. Croix's Mojo Salt rods for this purpose," Balog says, adding that 7' or 7'6"models with medium or medium-heavy power also excel for bottom rigs targeting smaller species like porgies, lane snapper, and triggerfish with lighter line. "They're very strong, durable, and sensitive with large-diameter handles that give you a lot more leverage and control. I like them because they are surprisingly light in the hand but heavy-duty when tested. They're also very durable in and around the boat."
 
Florida Keys-based captain and co-host of the Saltwater Experience television program, Rich Tudor, says South Florida anglers can have a blast now through the end of October targeting blackfin tuna out at the Marathon Hump, as well as on top of other offshore humps and mountains. Tudor uses the sonar on his Yellowfin 26 Hybrid to search for schools of tuna suspended over the offshore structures. "They can be right up busting bait on the surface or down 300 feet," he says.



 
For fish at or near the surface, Tudor freelines pilchards or other live bait while drifting along with the Gulf Stream, keeping the fish high and active in the water column by feeding them scoops of live bait. For deeper fish, he puts butterfly- or fixed-hook-style jigs in their faces and works them aggressively. "All sizes and colors can work," Tudor says. "The key is getting something down quickly to where the fish are at."
 
Tudor says a versatile, 7' medium power St. Croix Mojo Salt rod makes an ideal tool for both freelining and jigging for blackfins, which tend to average around 10 pounds. "You can rig these rods with 50-pound braid and a 30-pound fluorocarbon leader and be ready to fish down deep or up top, and when you run into a larger 25 or 30 pounder, you've got more than enough power to get the job done."
 


 
Professional fishing guide and angling ambassador, Justin Carter, says the mullet migration is kicking into gear in his home waters around Charleston, South Carolina, and that means bull reds on the terror. "The reds have come off the spawn on last full moon and are coming back through our nearshore waters hungry and in good numbers," Carter reports. "These are big, mature breeders between 35 and 50 inches, and the bite is only going to get better within the coming weeks."



 
Carter says there's a lot of ways to target the behemoths, but it's hard to beat freelining live menhaden or fishing cut bait on slider rigs on the bottom in the passes and around the jetties. "They aren't really too picky," says Carter, who most often deploys a 7' or 7'6" medium-heavy power, fast action Mojo Salt rod, 65-pound braided line, and a three-to-four-foot section of 60-pound monofilament leader terminated at a 6/0 circle hook for live bait or an 8/0 circle hook for cut bait. "Circle hooks are really important when fishing bait for these big reds," Carter emphasizes. "They help us take good care of these valuable breeders. The rods are important for conservation, too. Our water is still warm, so you've got to have powerful tackle that defeats these big fish quickly with as little stress as possible."
 


 
Carter says coastal Carolina anglers should also be prepared to intercept migrating schools of tarpon this month. Freelining live menhaden gets it done for the silver kings, too. "I do like a bit longer rod with a little less tip for tarpon though," he says. "These are big poons that start at about 70 pounds. A rod with a more moderate action like the 8' medium-heavy power, moderate-fast action Mojo Salt is more forgiving when these big fish jump and shake their heads on braided line, but they've got power to spare for landing them fast. This same setup is a great tool for sight casting bucktail jigs or 10" Z-Man HeroZ  jerkbaits to cobia," adds Carter, who often encounters these fish along with African pompano and barracuda when fishing the wrecks and reefs for kings, grouper and snapper farther offshore.
 


 
"With all the great nearshore fishing for reds and tarpon in September and October, it's easy to forget about bottom fishing out deep, but that'd be a mistake," Carter says. "Just make sure you've got the right rods. I fish from a Blackjack bay boat and I'm usually just spot locked with the troller, so when I hook a big grouper or snapper I don't have the extra benefit of a big, heavy boat drifting in the current to keep the fish from diving back down into the structure. It's a pure street fight." In this case, Carter agrees with Balog and employs the most powerful rods St. Croix makes – the 5'8" heavy and extra-heavy power Mojo Jig models. "I pair these rods with a reel with up to 50 pounds of drag spooled with 100-pound braid and it gives my anglers all the tools they need to win the battle."
 
Whether you fish from your own boat, from a friend's boat, or are looking to take a charter, the months of September and October are prime months full of unique opportunities for nearshore and offshore saltwater angling. So, take our pros' advice and don't get caught under gunned. Gear up with the rods and tackle that make quick and efficient work of hooking and landing the trophy fish of fall… wherever they swim.