Legendary Performance Perpetuates
August 14, 2017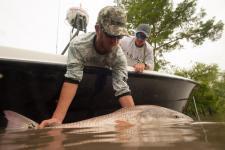 St. Croix wows the crowd with the technologically-advanced Legend Tournament Inshore and receives 2017 Best Saltwater Rod award
Park Falls, WI (August 15, 2017) Inshore anglers dont have much time to contemplate. A slow and steady push-pole through a saltgrass marsh can turn into a scramble to make a seamless cast before your quarry forever spooks.
To engender the perfect cast, the rod in your hand must employ an immaculate fusion of design elements: allowance for pinpoint accuracy; ability to telegraph even the shortest strike; handle a fishs mad dash through an unforgiving environment; and turn a fishs head before all is for naught.
Fortunately for the diehard inshore angler, the engineering team at St. Croix designed the new Legend Tournament Inshore series to meet the most stringent saltwater requirements.
Winner of Best Saltwater Rod at ICAST 2017, Legend Tournament Inshore is fine-tuned with the latest blank-manufacturing technologies and contemporary components for absolute hyper-performance. The finished product? The inimitable sensitivity, power and durability found in St Croixs renowned Legend Tournament Bass and Walleye series, but with componentry and environmental design reserved for harsh saltwater environments.
Legend Tournament Inshore
Handcrafted with SCIV graphite and built upon Integrated Poly Curve (IPC) tooling technology, the eye-catching Belize Blue Metallic Legend Tournament Inshore blank is engineered to eliminate all transitional points. This fosters the rods smooth action and increases its strength and sensitivity. Moreover, Advanced Reinforcing Technology (ART) and Fortified Resin System (FRS) technologies produce a beautiful synthesis of lightweight sensitivity and durability.
Legend Tournament Inshore rods are decked with only the best non-corrosive components, including the slim yet strong aluminum-oxide rings and titanium frames of Kigan Master Hand Zero Tangle guides, as well as a Kigan titanium hook-keeper and a corrosion-proof wind check for the utmost in protection from saltwaters destructive properties. The high-quality thread and two coats of Flex-Coat slow cure finish add to the good looks, as well hold all componentry secure as can be. As for the super-grade cork handle and Fuji TVS or PTS blank-touch reel seat with built-in hood, the duo not only aids in comforting the hand, but adds even more sensitivity to the fingertips.
Available fall of 2017, the 10-rod series will retail between $280 -$340.
LEGEND TOURNAMENT INSHORE (Saltwater spinning/casting) FRS, IPC, ART, USA
Designed and handcrafted in Park Falls, U.S.A.
Integrated Poly Curve (IPC) tooling technology.
Advanced Reinforcing Technology (ART).
High-modulus/high-strain SCIV graphite with FRS for unparalleled strength and durability.
Kigan Master Hand Zero Tangle guides with slim, strong aluminum-oxide rings and titanium frames for the ultimate protection from saltwater corrosion.
Fuji TVS blank-touch reel seat with built-in hood on spinning rods.
Fuji PTS blank-touch reel seat with built-in hood on casting rods.
Super-grade cork handle.
Kigan titanium hook-keeper.
Corrosion-proof wind check.
Two coats of Flex-Coat slow cure finish.
15-year transferable warranty backed by St. Croix Superstar Service.
A rod tip soft enough to make long yet accurate casts? The Legend Tournament Inshores got it. A beefed-up butt-section for managing a behemoth? Yep, thats built in, too.
Out of 1263 products entered at ICAST this year, only 26 could claim fame. Whether you love hammering bull redfish, skipping flukes under mangroves for over-slot snook or busting stripers, St. Croixs Legend Tournament Inshore is your new must-have. Put one in your hand and find out why it took saltwater rods top honors.
ABOUT
Now in its 70th year, Park Falls, Wisconsin based St. Croix Rod remains a family-owned and managed manufacturer of high-performance fishing rods with a heritage of USA manufacturing. Utilizing proprietary technologies, St. Croix controls every step of the rod-making process, from conception and design to manufacturing and inspection, in two company-owned facilities. The company offers a complete line of premium, American-made fly, spinning and casting rods under their Legend Elite, Legend Xtreme, Legend Tournament, Avid Series, Premier, Wild River, Tidemaster, Imperial and other trademarks through a global distribution network of full-service fishing tackle dealers. The companys mid-priced Triumph, Mojo Bass/Musky/Inshore/Surf, Eyecon and Rio Santo series rods are designed and engineered in Park Falls, Wisconsin and built in a new, state-of-the-art manufacturing facility in Fresnillo, Mexico. Founded in 1948 to manufacture jointed bamboo fishing poles for a Minneapolis hardware store chain, St. Croix has grown to become the largest manufacturer of fishing rods in North America.