Give your Musky trolling some much
needed Mojo
September 28, 2017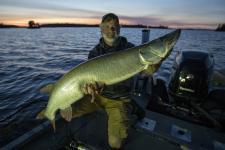 New Mojo Musky Trolling rods: put a big hit on predator fish this fall
Park Falls, WI (September 15, 2017) Cover water. Put baits in front of more fish. Trigger giants. These are the reasons we troll for muskies Big baits, high speeds, short lines and the toughest of freshwater toothy critters place oversized demands on tackle, from leaders and line to reels and rods. The all new Mojo Musky Trolling series from St. Croix Rod answers the call, weaving decades of big-water, big-fish experience into rods that exquisitely blend musky trolling-specific features with legendary durability and craftsmanship.
Serious musky anglers incorporate trolling into their bag of tricks, for one simple reason: it just plain works! In some locales, musky trolling is a viable option all season long, especially on larger bodies of water where suspended fish are the target. These are the titans that hang in the main lake basin, snacking on fatty forage like tullibee and whitefish. In other musky haunts, fall is prime time for trolling, especially in the north country where cooling water temperatures drive small panfish from dying weedbeds into the mouths of hungry Esox.
Trolling specifics, including baits, speeds, and presentation refinements, are as diverse as the musky moods that anglers must learn to navigate. The business end of the trolling package can be anything from bucktails and spoons, to gargantuan hardbaits and swimbaits that would send other freshwater trolling targets, like salmon and walleyes, running for cover. Dedicated musky trollers will often pull these oversized offerings at up to 6 miles per hour, speeds that are more frequently associated with blue water targets like tuna and sailfish. All of this can occur on flat lines, with help from boards to spread a trolling pattern from side-to-side, or even on very short lines, right in the boats prop wash.
Lots of options, right? Well, one thing that all flavors of musky trolling have in common in that they place incredible stress on gear, especially the rod.
The all-new Mojo Musky Trolling rods are up to the task, conquering the rigors of musky trolling with the features, durability and craftsmanship that anglers have come to expect from St. Croix Rod.
Anglers will find 5 different Mojo Musky Trolling rods in lengths ranging from seven to ten feet. The breadth of lengths allows musky trollers to set up a wide bait spread, even without boards, with long rods up front and shorter rods toward the stern, including the highly-effective prop wash presentation.
All rods feature heavy or extra-heavy power to handle the most monstrous muskies youll encounter, and moderate action to manage the strain of big baits pulled at high speeds, not to mention bone-jarring strikes. But there is more to the best musky trolling rods on earth than simply length, power and action. How about premium, trolling-specific features like:
Features:
Blanks built with a dynamic blend of premium-quality SCII graphite and super premium, 100% linear S-glass
Kigan Master Hand 3D guides featuring slim, strong aluminum-oxide rings with black frames
Fuji ECS reel seat with black hood on casting models
Fuji DPS reel seat with black hoods on spinning models
Premium-grade cork handle
Kigan hook-keeper
Two coats of Flex Coat slow-cure finish
5-year warranty backed by St. Croix Superstar Service
Its time to put some mojo back into musky trolling with help from St. Croix Rods new family of Mojo Musky Trolling rods, arriving in the fall of 2017 and retailing between $200-$240.
About St. Croix Rod
St. Croix Rod is a family-owned and managed manufacturer of high-performance fishing rods headquartered in Park Falls, Wisconsin with a 68-year heritage of USA manufacturing. Utilizing proprietary technologies, St. Croix controls every step of the rod-making process, from conception and design to manufacturing and inspection, in two company-owned facilities. The company offers a complete line of premium, American-made fly, spinning and casting rods under their Legend Elite, Legend Xtreme, Legend Tournament, Avid Series, Premier, Wild River, Tidemaster, Imperial and other trademarks through a global distribution network of full-service fishing tackle dealers. The companys mid-priced Triumph, Mojo Bass/Musky/Inshore/Surf, Eyecon and Rio Santo series rods are designed and engineered in Park Falls, Wisconsin and built in a new, state-of-the-art manufacturing facility in Fresnillo, Mexico. Founded in 1948 to manufacture jointed bamboo fishing poles for a Minneapolis hardware store chain, St. Croix has grown to become the largest manufacturer of fishing rods in North America.