Casting for School Pride
January 22, 2017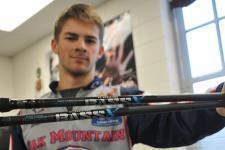 Oak Mountain High School Fishing Team puts St. Croix's BASS X to the Test
Yes, football is still king of High School sports, at least in the South. However, many students who play under the Friday night lights are standing on the deck of a bass boat early the next morning, their school colors splattered across a bass fishing jersey instead of a helmet, casting for school pride instead of tackling for it.
This is the case at Oak Mountain High School located in Birmingham, Ala. The bass fishing team here started six years ago with half a dozen anglers. Now, the team is 19 members strong. Although the growth is impressive, its not an anomaly. The B.A.S.S. High School Nation has a roster of over 6000 anglers, and this is just one of many tournament organizations catering to young fishermen. The explosion of participation in this segment of competitive angling is tremendous, and the Oak Mountain High School fishing team is a shining example of why this trend will continue.
When the team was started six years ago, it was just a handful guys who loved to bass fish, says William Roberson, a senior, captain of the fishing team and offensive lineman for the Eagles. In the beginning, the team was a great way for us to share a common passion. Now, though, we go to tournaments to represent Eagle Pride. We have pretournament meetings to discuss strategy. We communicate patterns and productive baits while on the water via text messages kind of like an on-the-water huddle, Roberson explains. And when our rivals, Spain Park High School, are fishing the same tournament as we are, if we dont win, our next goal is to beat everyone on their team!
The team also does plenty of work off the water. Alongside the fishing and representing our school, we also are responsible for getting sponsors. We have to create a partnership plan and present our program and what it can offer a company in order to help us be successful on the water, Roberson says. This year, we received one of our biggest sponsorships ever with St. Croix rods. Its crazy exciting, because not only do we get to use BASS X rods, but we get to offer feedback, just like the pros. The Oak Mountain Fishing Team was the first High School team ever sponsored by the rod company.
Unlike many high school sports, the fishing team puts players on the field with a wide variety of experience and expertise. Clay Collins, for example, is a senior and four-year member of the OMHS fishing team. I already had seven BASS X rods in my boat. They are my favorite. I couldnt believe that I was getting another one as part of the sponsorship! I needed a flippin rod, and the action on the 7-4 heavy is exactly what I was looking for, he shares. Roberson doesnt argue, but prefers cranking and praises the BASS X 7-1 medium action for his squarebills. I wouldnt trade that rod for an A in trigonometry, he laughs.
But Zach Bailey, a freshman, joined the team with little gear, most of his bass fishing experience coming from casting the banks of neighborhood lakes. My grandfather gave me his old fishing stuff a spincaster and an old spinning rig which is what I used for our first tournament. When I got the BASS X rod, it was like, wow. My parents helped me get a reel for it. I cant believe the difference it makes in how accurate I can cast and how well I can feel the fish bite. I definitely know what I want for my next birthday.
The OMHS fishing team is now preparing for spring tournaments. Last year, the team had two first-place finishes and several other Top 10s. We want to dominate this year, Roberson says. Our football team lost the first game of the playoffs. So, its our goal to bring home a championship trophy from the lake.
Go Eagles!