Appreciating the Appreciators
June 05, 2017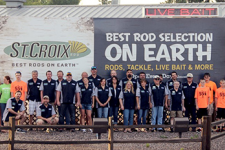 Open invitation to St. Croix's annual Customer Appreciation Day
The day you take your St. Croix Rod home, youve become a part of an elite group of anglers youre a St. Croix Rod family member. Each year, St. Croix puts on one heck of a party to celebrate theBest Customers on Earth.
Meet Al Lindner of "Lindner's Angling Edge" at St. Croix's annual Customer Appreciation Day.
We welcome you to visit our factory store for our annualCustomer Appreciation Day, Saturday, June 17, from 7 a.m. to 5 p.m.F<
From 10 a.m. 3 p.m. come meet special guests Including: Joe Bucher, Fishing with Joe Bucher Television Show, PLUS Al Lindner and James Lindner from Lindners Angling Edge Television Show.
Joe Bucher from Fishing with Joe Bucher returns for St. Croix's annual Customer Appreciation Day.
WHERE: ST. CROIX ROD 856 4TH AVENUE NORTH PARK FALLS, WI 54552
WHEN: SATURDAY, JUNE 17, 2016
TIME: 7a.m. to 5p.m.
LIVE REMOTE FROM LOCAL RADIO STATION
FREE BAR-B-QUE WITH BRATS, CHIPS WATER from 10a.m. - 2p.m. (while supplies last)
SIGN UP TO WIN ONE OF THOUSANDS OF DOLLARS IN PRIZES, NOTE: Need not be present to win drawing. Winners will be notified the week of 6/21/17.
ENJOY ALL-DAY TENT SALE WITH SPECIAL PRICING!Special pricing is only available in Park Falls and not on website or by phone.
AboutSt. Croix Rod
St. Croix Rod is a family-owned and managed manufacturer ofhigh-performance fishing rods headquartered in Park Falls, Wisconsin with a 68-year heritage of USA manufacturing. Utilizing proprietary technologies, St. Croix controls every step of the rod-making process, from conception and design to manufacturing and inspection, in two company-owned facilities. The company offers a complete line of premium, American-made fly, spinning and casting rods under their Legend Elite, Legend Xtreme, Legend Tournament, Avid Series, Premier, Wild River, Tidemaster, Imperial and other trademarks through a global distribution network of full-service fishing tackle dealers. The companys mid-priced Triumph, Mojo Bass/Musky/Inshore/Surf, Eyecon and Rio Santo series rods are designed and engineered in Park Falls, Wisconsin and built in a new, state-of-the-art manufacturing facility in Fresnillo, Mexico. Founded in 1948 to manufacture jointed bamboo fishing poles for aMinneapolis hardware store chain, St. Croix has grown to become the largest manufacturer of fishing rods in North America.