Sporting Serious Mojo
March 08, 2016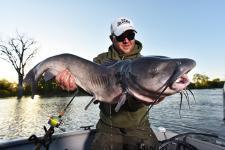 ST. CROIX ROD ADDS TO MOJO LINE-UP
Park Falls, WI (March 7, 2016) There isnt a singular trait that propels a tournament angler to victory. Knowledge of the lake? Yep. Adaptability? Sure thing. Mastery of multiple techniques? No brainer. Luck? It plays a role, too
Yet there is this one characteristic, or rather vibe that elevates one angler to the podium while the rest of the field find themselves packing. St. Croix calls it mojo, and in fact named multiple series of smooth operating sticks after this electric, intangible feeling of invincibility.
Mojo Bass
Released in 2009, roundabout the time the Pittsburgh Steelers were being showered in tickertape, Mojo Bass nearly altered the earths orbit. (Befitting for The Best Rods on Earth) Primo, yet shockingly affordable, Mojo Bass rods were instantly stripped from rod racks everywhere, and lauded by bass fishing junkies for being so sweet for the dollar.
For 2016, St. Croix Rod has re-mojo-ized the lineup, improving what were already killer features paired with distinctive technology.
Weve updated the graphite in Mojo Bass rods to feature our premium, high-modulus SCIII blanks, along with [Integrated Poly Curve] IPC tooling technology, said St. Croix Vice President of Brand Management, Jeff Schluter. This makes the rods lighter, more sensitive, more durable and fish with improved balance. We also tweaked the rod assortment to match current trends in bass fishing techniques. This means specialty rods like a 6 8 spinning for Wacky Worms and a 7 10 casting rod for Alabama Rigs and Swimbaits. All told, there are 17 technique-specific models in the Mojo Bass assortment.
Brandishing Mojo Bass popular Black Cherry Metallic finish, the SCIII blanks are created with advanced high-modulus graphite, making the rods up to 15% lighter than before. St. Croixs exclusive IPC technology aims to eliminate all transitional points in the rod blank, yielding smoother actions, increased strength and greater sensitivity.
Mojo Bass will continue featuring Kigan Master Hand 3D guides with slim, strong aluminum-oxide rings surrounded by stylish black frames. The thread wraps are protected with two coats of Flex Coat slow-cure finish.
A Fuji ECS reel seat with black hood graces the casting models, as a Fuji DPS reel seat with black hoods comes standard on spinning rods. The split-grip/premium-grade cork handle offers extreme comfort and sensitivity in the hand. And let us not forget the exclusive Kigan hook-keeper, which holds lures steadfast while at rest. Mojo Bass Glass models sport all this on a super-premium, 100% linear S-glass blank.
Mojo Bass Fly
St. Croix wasnt happy with just spreading mojo to the conventional bass angler. No, it was time to infuse that fishing buzz with other groups of anglers. And hey, why not the most classic of the classics and formal of the formalsthe fly angler. Boom! Time to feel the mojo, Mr. River Runs Through It.
Also new for 2016, Mojo Bass Fly was conceived to both offer the traditional fly angler a rod for subduing hulking quarry, as well as get conventional bass anglers to reach across the aisles to fly fishing.
Winner of ICASTs Best of Show in the Fly Fishing category, Mojo Bass Fly successfully achieved both intended results.
All three models of Mojo Bass Fly (MBF7117.2, MBF7118.2, MBF7119.2) are built on St. Croixs lightweight yet sensitive SCII graphite 2-peice blanksBlack Cherry Metallic in color just like their spinning and casting brethrenand designed with a moderate-fast action for quick, untroubled loading during the cast. Premium-grade cork graces the grip, and reels are snugged securely with uplocking, machined-aluminum reel seats. Fly lines slide through the Kigan Master Hand 3D stripper guides and hard-chrome snake guides with ease. And the thread wraps are protected by two coats of Flex Coat slow-cure finish.
Mojo Cat
This mojo thing feels good, does it not? Might as well share it with another growing legion of serious practitioners, the catfish angler. Hatched, too, for 2016, is St. Croixs answer for the bank and boat anglers who arent impressed with the mishmash of subpar sticks in the stores. Mojo Cat gives whisker-wishers an assortment of technique-specific and purposeful catfish rods engineered with precision features and components.
We looked at how fast this sport was maturing, and felt the time was right to design and build a new category of premium-performance catfish rods, said Schluter. Our goal with the Mojo Cat series was to create the best possible rods for hardcore catfish anglers. In the past, too many of these folks have had to compromise with inferior quality rods, or custom rods built on blanks not even designed for catfish angling.
The company used premium-quality S-Glass, rather than cheaper, traditional E-Glass. Our linear S-Glass material has a tremendously positive influence on blank weight and performance, said Schluter. Built on blanks with a dynamic blend of premium SCII graphite and 100-percent linear S-Glass, Mojo Cat rods provide exceptional strength and lifting power, plus enhanced sensitivity and tip flex.
Bolstering strength and enhancing line flow and sensitivity, Mojo Cat rods carry Kigan Master Hand 3D guides with slim, strong aluminum-oxide rings and black frames. All thread wraps are safeguarded with a dual coat of Flex Coat slow-cure finish. Fuji ECS reel seats with black hood clutch casting reels, while Fuji DPS reel seats with black hoods are affixed to Mojo Cat spinning models. Each rod is equipped with a high-grade cork handle and an exclusive Kigan hook-keeper for securing all sizes of catfish hooks.
Seven Mojo Cat models include five casting and two spinning rods. Built specifically for channel, blue and flathead catfish specialistsand ideal for die-hard tournament anglersthese rods are matched to specific line and bait/sinker weight designations. Both 7-foot medium power, fast action casting (MCC70MF) and spinning (MCS70MF) rods are rated for 10- to 25-pound test and - to 3-ounces of weighttailor made for medium-duty channel catfish applications. The 7-foot 6-inch MCC76HF casting rod perfectly matches drift fishing approaches, including walking bait in rivers. And at 8-feet in length, the extra-heavy power MCC80XHF casting rod is ready to waylay the next world-record, beefy enough to handle 50- to 100-pound test line and up to 32-ounces of weight (or the equivalent of a 1-pound skipjack fillet plus a 16-ounce sinker.) Lastly, for packing small but biting big are a pair of 2-piece, 8-foot medium-power models (MCC80MF2casting and MCS80MF2spinning).
Feeling it yet? The mojo? If not, St. Croix has a plan to put you up on that podium, if even in your mind while going mano y mano with fish from the casting deck.
Soon, youll be feeling the mojo, too