The Avid Angler's Wonder Rod
March 10, 2015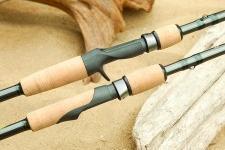 St. Croix's Avid X earns seasoned veteran status in the year of its birth
Park Falls, WI (March 10, 2015) By the time he was 4 years old, chess prodigy Samual Reshevsky was making the ultimate checkmate commonplace; a few short years later he was defeating even the most accomplished players with ease. Then there was Wolfgang Amadeus Mozart who, also by age 4, was considered one of the most prolific music composers of the Classical Era. And then who could forget Pablo Picasso who, you guessed it, was a 4-year-old when he brushed his first masterpiece: Le picador.
Satirically, one must wonder: What took these kids so long to get noticed?
Fishing has its own prodigy children, too. Every now and then, a brainchild prototype leaves the minds and machines of its creators graced with the predetermination to become a quick legend. Said phenomenon happened to St. Croix Rod.
A mere five-and-one-half months after its introduction at ICAST in July of 2014, the Avid X series was set free to stock St. Croixs elite dealer base. Within mere weeks of delivery, many of the most ardent-anglers owned and were already praising Avid X.
Seven months after its debut, Avid X casting models garnered top rod honors in Field Streams Best of the Best: New Fishing Gear 2015 an honor parallel to a truck being recognized by Motor Trend.
Piling it on in a good sort of way, Game Fish Publication/Sportsmen Magazines Readers Choice Award went to St. Croix Rods Avid X for Favorite Spinning Rod.
The editors have spoken, and so have the anglers.
So what makes the Avid X so perfect to palm and cast, as well as gobble up votes like a Republican candidate in Texas? Technology, craftsmanship and knowhow. Every Avid X spinning and casting rod is a ground-breaking version of the companys ever-popular Avid Series, sharing the same core blank technology. This means its built on a premium, featherweight, high-modulus SCIII graphite blank with Integrated Poly Curve tooling technology, which offers smooth-action alongside incredible sensitivity and strength.
A Fuji reel seat with gunsmoke hood is fitted to the blank, surrounded by lightweight, all-new counterbalanced select-grade split-grip cork handle. Theres even an innovative hook-keeper to hold a bait of most any caliber, all the while abolishing issues associated with annoying line wrap.
As for the Kigan Z micro-guide platform offered? The Z guides with slim, aluminum-oxide rings and reel-seat-matching gunsmoke frames are designed to reduce weight while maintaining proper stripper guide ring height for optimal line flow. To boot, the guides are skillfully wrapped with nylon thread and sealed with two coats of Flex Coat slow-cure finish.
Designed and handcrafted in Park Falls, Wisconsin, the new Avid X series melds the utmost performance with unparalleled value, in lengths, actions and powers built for extreme bass and walleye anglers. The series features 18 one- and two-piece spinning and casting models, with every 2-piece model sporting St. Croixs exclusive slim-profile ferrules. And all are protected by a 15-year transferrable warranty backed by St. Croix Superstar Service. Most Avid X models retail at $200.
As the editors of Field Stream put it: Best of all, you get Croix quality at a sweet price. Here's the video: St. Croix Avid X