Class of the Classic
February 08, 2015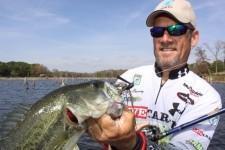 Four top St. Croix Rod pros qualify for 2015 Bassmaster Classic
To qualify is a big badge of honor. Winning? Well lets just say the medals and commendations might require a caddy to carry and reinforcement of the fireplace mantle. The Classic trophy alone looks to exceed the maximum poundage for check-in luggage.
The Classic is a weighty matter, indeed. And there is a quartet of Elite anglers who will be throwing their weight and baits around under the flag of an all-American brand. Classic qualifiers James Niggemeyer, Stephen Browning, Scott Rook and Brian Snowden will have St. Croix Rod pinned to their chests and immaculately crafted rods in their hands.
South Carolinas Lake Hartwell sets the battlefield for the 2015 campaign. The phrase intimidating might best describe the 56,000-acre reservoir and its 962 miles of shoreline. Rugged foothills and plummeting piedmont foretell what lies beneath the surface, as Hartwells waterscape is a pulmonary arrhythmia of structure.
True, for one, Niggemeyer is impressed by the scope and cragginess of Hartwell, but definitely not intimidated by the manmade lake. Hartwell reminds me of some of the lakes I fished out west, said the California native, now proud Texan. Before Christmas, I went on a scouting trip to familiarize myself with the lake. I left feeling pretty comfortable.
Pre-fishing is one thing, prognosticating another. Niggemeyer tested the waters in late December, but the dates of the Classic put him back on Hartwell in late February. So how does he expect the bite to play out?
I predict that the bass will be in a late-winter pre-spawn mode, meaning both deep and shallow patterns will be in play, said Niggemeyer, mentally preparing for basically everything. I want to fish my strengths, and working a Strike King jig is one of them. Its a powerful cold-water tool when fished aroundvertical structure and cover types both shallow and deep.
Painting a waterscape with a precision jig necessitates the right brush, the perfect rod. Ill fish a St. Croix Legend Elite (LEC70MHF) 7-foot medium-heavy rod to get the job done. Its extremely sensitive to soft bites from sluggish cold-water fish, but still has the action and backbone to maximize my potential to land each bite.
Niggemeyers secondary approach involves raking crankbaits along fast-falling banks. I have had a lot of success in late winter/early spring, fishing a variety of Strike King crankbaits to draw reaction strikes from fish that are otherwise reluctant to eat a slow-moving presentation.
Pre-spawn bass tend to relate to 45-degree banks because they offer quick access to deep water. And using the right rod for crankbaiting is crucial, which is why I will reach for a 7-foot 4-inch St. Croix Mojo Bass Glass (MBGC74MM). The fiberglass rod gives me an edge anytime I fishcrankbaits, but especially in this cold-water timeframe when fish have a tendency to swipe at baits, resulting in fish that are just barely hooked.
Niggemeyers larger Classic prediction? Thetournament will most likely be won by the guy who consistently catches them day after day, as opposed tothe one who has a monster day and hangs on for the win. With that in mind, a carefullythought outstrategy withmultiple options will be important.
Similarity, not familiarity, is the battle cry echoed by St. Croix Rod pro and Bassmaster Classic qualifier, Brian Snowden. The Missourian is intimately acquainted with Table Rock Lake, which he says mimics South Carolinas Lake Hartwell. I have never fished a tournament on Lake Hartwell, but I did have the opportunity to spend an entire week on the water prior to off-limits. It fishes very similar to my home lake, Table Rock.
In Snowdens academic opinion, the calendar and cold water will have bass in a pre-spawn frame of mind. The fish should be in a late winter or early pre-spawn pattern. For fish staging deeper than 10 feet, I plan on using a 1/2- to 3/4-ounce football jig. For this technique, my all-time favorite rod is the 7-foot medium-heavy St. Croix Legend Elite. The rod is very light and phenomenally sensitivity. Plus, the Legend Elite has a fast tip allowing for accurate casts, but with plenty of strength through the lower section of the rod.
Snowden, like Niggemeyer, already has his fingers on the seams of a follow-up pitch. My second prediction is that bass will be in major creeks, on channel swings and secondary points. One of the best techniques for catching them is running a crankbait. My choice for throwing smaller, lightweight crankbaits is the 7-foot 2-inch St. Croix Legend Tournament Bass (TBC72MM).
There is a hardened Lake Hartwell expert in St. Croixs ranks as well. I fished the 2008 Bassmaster Classic on Hartwell, said Arkansan Stephen Browning. I didn't fare well, but I really like the lake. I did spend some time before cutoff trying to familiarize myself with some areas that I didnt fish during the 2008 Classic. Seems that a winning formula for Browning will involve hybridizing 2008 intel with knowledge gained from more recent pre-fishing efforts.
I'm going to hope for stable weather patterns leading up to the Classic, said Browning, metaphorically pounding the Farmers Almanac with this fist. This will help me analyze the winning pattern, or patterns, during the Classic. Nothing would suit me better than if there was substantial rainfall about a week out. That would move bass shallower, which would set up nicely for some shallow cranking.
Again, akin to Niggemeyer, Browning snares a crankbait-specific St. Croix Rod off the front platform. I've put the Mojo Target Cranker to the test the last two years with wins on the Red River in Shreveport, LA, and would love the opportunity to do the same at the Classic.
Brownings Plan B considers dryer conditions. If we don't see the rain and the fish are relating to deeper structure, a football jig on the end of a Legend Tournament Bass Carolina Rig rod will play a big role. This is one of my favorite ways to catch fish during the late-winter season.
If I can find fish using either of these techniques, I should do very well. Confidence is a major player, especially at the Classic, and I know that there are no better rods that fit my styles of fishing than those that carry the St. Croix logo.
Rounding out St. Croixs fearsome foursome is veteran B.A.S.S. angler Scott Rook. The Arkansan is maybe best known for his adaptability; able to drive crankbaits with a burly baitcaster and effortlessly drop it to the deck and come back up with a finesse spinning outfit.
Matching Brownings history with Lake Hartwell, Rook laced em up at the 2008 Bassmaster Classic. And this time around, as he stated in a recent story written by David A. Brown for Arkansas Wild magazine, Rooks said deciphering prevailing weather conditions will be the key to the kingdom.
In late February, if we have a warming spell, it will be shallow-water fishing; if we have a cold spell between now and then it will be more deep-water fishing, he said. More than likely, it will be won deep, but if it continues to warm, you can continue to fish shallow.
The weather is going to be the biggest factor in what you can do. And you might have to mix it up some.
St. Croix Rod, like its water-warriors, wears a badge of honor. And the symbol stands as the companys pride in both its pros and premium rods theyll be fishing.