Tundra Ice Rods
September 12, 2022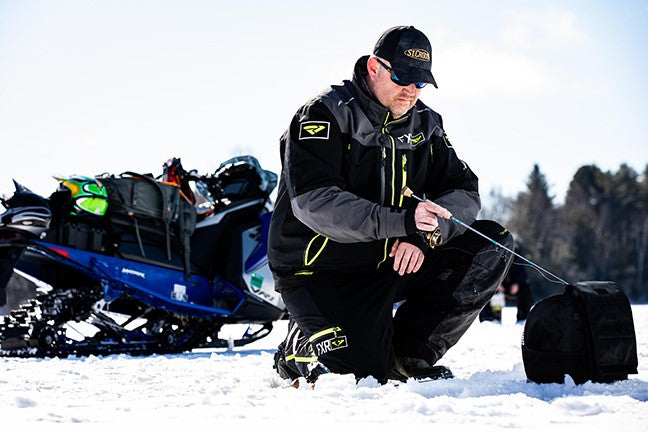 The St. Croix Tundra Series is a culmination of ice-centric features and technologies wrapped in an extremely durable package at a retail-price range of $105 to $135. Featuring nine distinct spinning models ranging from 26" to 36" in light to medium-heavy power, fast and extra-fast action Tundra Series rods offer anglers different blanks and thoughtfully designed handle configurations for optimized comfort and performance in multiple ice presentations.
Extra-fast action, light-power Tundra models get strong, Xtreme-Flex solid glass blanks with supple, hi-vis strike-indicating tips. Fast action, medium-light through medium-heavy models are built on crisp and powerful Precision-Taper solid carbon blanks for trophy-landing performance. All Tundra blanks are matte finished in a covert Glacial Gray color.
Handle designs are customized per model. Light and medium-light power Tundras are equipped with angler-preferred premium cork split-grip handles for optimal control and maximum versatility in panfish presentations.
Medium and medium-heavy power models are equipped with premium full-cork handles by angler demand. With the exception of the medium-heavy model which includes a SeaGuide NPS reel seat for peace-of-mind and extra security while doing battle with heavy predators, all other Tundra ice rods are designed without reel seats to allow precise and balanced, custom reel placement in accordance with individual angler preference.
The guide trains on Tundra Series rods are engineered and executed to be durable, lightweight and trouble-free in the most-demanding conditions. A strong REC Recoil® stripper guide meets SeaGuide® light-wire running guides that reduce surface area to minimize ice buildup. Tip-tops are SeaGuide® stainless steel with a slick PVD coating.
St. Croix Tundra Ice Models
SCT26LXF – 26", light power, extra-fast action spinning / Retail $105
SCT30LXF – 30", light power, extra-fast action spinning / Retail $105
SCT34LXF – 34", light power, extra-fast action spinning / Retail $105
SCT27MLF – 27", medium-light power, fast action spinning / Retail $120
SCT27MF – 27", medium power, fast action spinning / Retail $120
SCT30MLF – 30", medium-light power, fast action spinning / Retail $125
SCT30MF – 30", medium power, fast action spinning / Retail $125
SCT36MF – 36", medium power, fast action spinning / Retail $135
SCT36MHF – 36", medium-heavy power, fast action spinning / Retail $135
St. Croix Tundra Ice Features
Two blank materials: Xtreme-Flex solid glass extra fast blanks designed for supple, strike-indicating tips and Precision-Taper solid carbon fast action blanks for trophy-landing performance
Ultra-durable cork handles customized per model and application
SeaGuide® NPS reel seat on a select model with no-show thread nut
Durable REC Recoil® stripper guide for the ultimate in durability
SeaGuide® light-wire running guides with reduced surface area to minimize ice buildup
SeaGuide® stainless steel tip top with PVD coating
Hi-vis orange tips on select glass models for quick reference and visual strike indication
5-year warranty backed by St. Croix Superstar Service
Designed in Park Falls, U.S.A. and handcrafted in Fresnillo, Mexico