Offshore Pursuits Offer Rewarding Results
January 22, 2020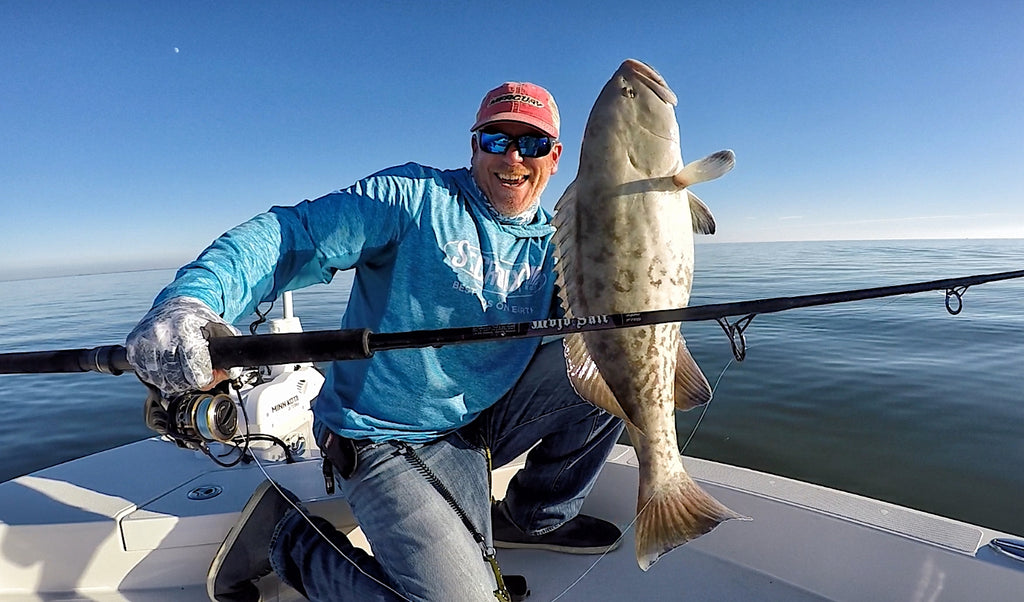 Maximize the fun and minimize fatigue and frustration with St. Croix Mojo Salt
By Joe Balog
Saltwater fishing offers no shortage of rewarding pursuits. While freshwater forays often concentrate on one target species, saltwater adventures may tackle several types of fish within a single morning or afternoon.
For me, there's just something about big fish that fight hard. Sure, I'll chase the light-tackle targets when things line up – yellowtails, sea trout, maybe some backwater mangrove snapper – but given the choice, I want to fight something that fights back. And I prefer to do it on a spinning rod.
From three-feet deep to three hundred, there's a fish that will challenge your tackle and your will. Shallow water grouper come to mind first. Here, casting plugs is incredibly effective, and Rapala's X-Rap Series leads the category, thanks to their indestructible design. It's simple fishing, casting downwind at rockpiles and burning the bait back on heavy braided line. The strike is life changing when twenty-pounders get in the mix.
Big snook are an addiction all their own. Pitching big, live pilchards into shallow water current seams is a summer tradition. Fish eclipsing forty inches chase the bait to the top and gulp them down, along with a quart of water at a time. Once hooked, any dock piling or downed tree is fair game.
Sails, kingfish, free-lined red snapper off the top – they're all in position to make an angler look foolish in the blink of an eye. So, to up the odds, I equip myself the best way I know how.
St. Croix Rod has designed and built its Mojo Series of fishing rods for several years now. Known for strength, reliability and performance at a reasonable price, bass, musky, inshore, kayak and even fly fishing Mojo models continue to perfectly match the needs of a multitude of anglers. The same applies to my favorite big-water editions.
St. Croix's Mojo Salt Series is built with big fish in mind. Most importantly, Mojo Salt features a blend of  SCII graphite and linear S-glass, resulting in an incredibly strong and durable blank. In addition, such blending enables the rod to flex more parabolically, allowing anglers to cast heavy baits farther.
That's an overlooked dynamic in fishing. In order to cast big, heavy lures and live baits (a big pogey or pinfish can weight half a pound), a rod must load correctly, actually lobbing the bait and allowing the heavy weight to carry itself. This principle of inertia is often lost on anglers unaccustomed to big gear.
Mojo Salt's blended material and associated technology is imperative to my fishing. Not only do these rods cast a grouper plug a great distance, they hold up to the grouper once hooked. Equipped with Advanced Reinforcing Technology (ART), Mojo Salt rods stay uniform under a heavy load, meaning the blank will not collapse or flatten when flexed. That's extremely important later in the battle when a big fish is surging by the boat, resisting  a trip into the net.
Nearshore sailfish in southeast Florida offer a tackle testing ground like no other. It's common to hook fish greater than six feet in length, which proceed to use their massive frames to tail-walk fifty feet at a time.  A free swimming sail on light tackle will test every component of your rod, reel and line, not to mention your nerve.
Believe it or not, rod guides play a big part when battling these leapers. Guides must be smooth, and frames remain uniform, to prevent any twisting and buckling under tremendous load.
Mojo Salt has the game covered with corrosion resistant frames, aluminum oxide rings and underwraps on all guides to prevent saltwater intrusion and increase overall rod strength.
Mojo Salt rods are available in a number of lengths, powers and actions in both conventional and spinning configurations. My favorites are the medium and medium-heavy power, seven-foot spinning models. I can cast, pitch and even troll with these rods. They're capable of working a tarpon boat side or digging a grouper out of a hole.
Finally, the overall weight of the Mojo Salt series could be its best attribute. I often find myself with one of these workhorses in my hands all day long; never does it result in fatigue. At around twelve ounces, my favorite Mojo Salt models are half the weight of typical saltwater sticks, twice as durable, and backed by a five-year warranty.
Don't get me wrong; fishing for anything is fun. But there's just something about a fish that pulls back harder than the rest. And to bring those big boys boat-side, nothing tops a St. Croix Mojo Salt rod.