Meet Our Machinery
Matt Frazier
June 23, 2022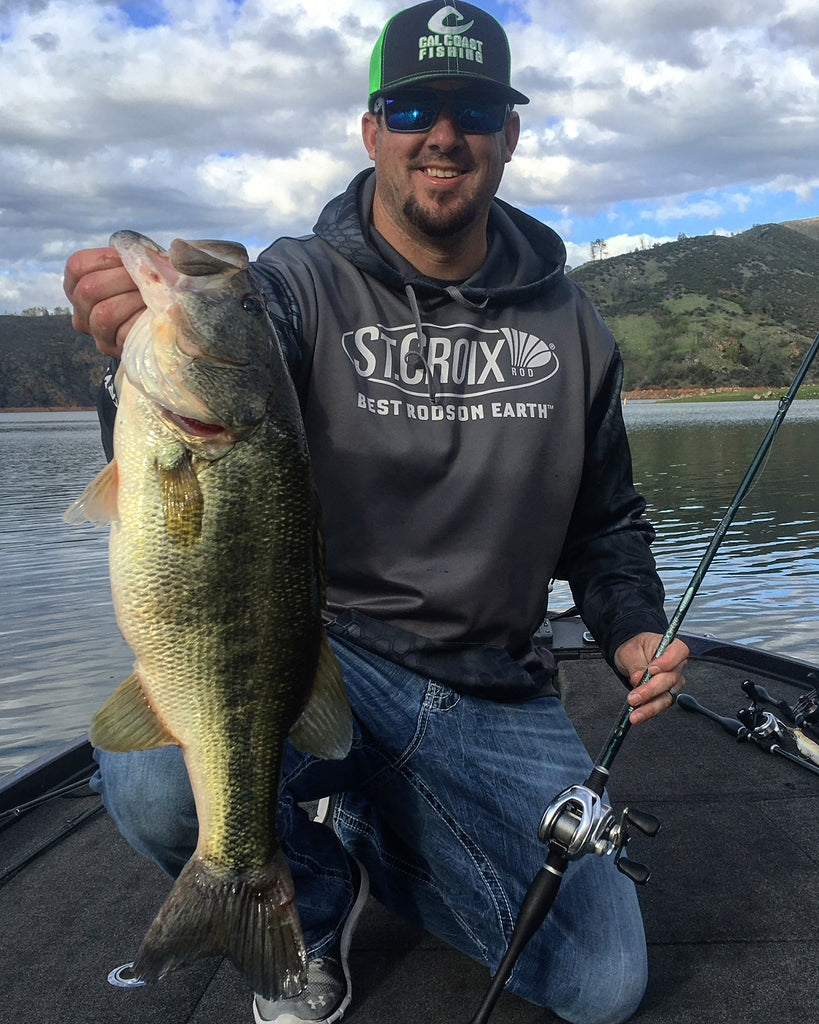 While the language of fishing is largely universal, fisheries, presentations and angling styles differ from region to region. Take California, for example – an expansive state with diverse angling opportunities for giant largemouth bass, unique saltwater species, high-mountain trout, and more. And unlike smaller states, California's so big that angling opportunities and styles can change dramatically from one end of the state to the other.
Nobody understands all of this better than Matt Frazier. The 40-year-old tournament angler and St. Croix staffer was born, raised and has lived his entire life within 15 miles of his hometown of Denair, California. While Frazier fishes California's entire saltwater coast and has pursued trout in the lakes and streams of the High Sierras since his childhood, California bass are his jam. Frazier has personally caught, photographed and released more than 50 largemouths weighing over ten pounds, including a half-dozen topping the 12-pound mark from California's clear, deep-water lakes. That's several life-time achievements, even for most top-tier anglers. Frazier has been a member of the St. Croix pro staff for many years, as well as St. Croix's lesser-known Analytical Team – an exclusive group of "technique masters" tapped by St. Croix's Product Team to help design, refine and perfect new rods before they make their way into the hands of mainstream anglers.
For the past few months, Frazier has also taken on a new role with St. Croix as the company's first Regional Pro-Staff Manager. In this capacity, Frazier is working with St. Croix Angler Engagement Coordinator, Savannah Stenlund, to expose more California anglers to St. Croix and the Best Rods on Earth®.
Frazier says the idea originated with St. Croix VP of Marketing, Jesse Simpkins, and St. Croix Brand Manager, Ryan Teach, came out to fish a tournament on the California Delta, the intricate network of waterways, canals, and sloughs connecting the Sierra Nevada watershed with San Francisco Bay. "After sampling some of our trophy bass fisheries, we went to dinner together and just shared ideas," Frazier says. "St. Croix had just brought on John Sherman as one of the important first steps in exposing more West Coast anglers to the St. Croix brand, and they wanted to really drill down into California. Our clear, deep-water reservoirs are different from many of the impoundments and shallow natural lakes throughout much of the rest of the country, so the techniques California bass anglers employ are different, too, as are some of our tackle preferences. As a whole, California anglers tend to focus a lot more on rod aesthetics and cosmetics. As a part of St. Croix's mission of designing and crafting rods that give all anglers the upper hand, we agreed there was a lot of ground we could be covering with California anglers."
According to Frazier, covering that ground starts with getting St. Croix rods into the right California hands. "We're building our pro staff here by signing the best and most influential anglers from eight California regions onto the team," Frazier says. "We've already filled six of the eight 'Elite-Level' ambassador positions with remarkable anglers like Bill Kunz, Alex Niapas, Cliff King, Shane Pierson, Phillip Dutra and Zack Thompson. And we're continuing to build staff below those guys based on real fishing talent and accomplishments, not necessarily social media presence. We've already added Anthony Souza, Mark Gomez, Russ Graves, Tray Williams, Drew Forrister, Dave Nishimoto, Brandon Diamond and Tim Wells, and are on the hunt for more."
Frazier says California anglers already appreciate the St. Croix brand, even if they're not currently fishing St. Croix rods. "There's almost universal respect and a positive familiarity with the St. Croix brand, so it has been really rewarding to be able to build on that with our anglers out here," Frazier reports. "I've been a part of the St. Croix family for 13 years, so I already know how special the brand is. They have the best people top to bottom who are totally angler-driven. What's most impressive to me though is how much testing and angler input they use and put into a rod before they release it," continues Frazier. "St. Croix puts every new rod into the best anglers' hands – highly critical technique masters who pick apart every aspect of the rod. They take their feedback and make changes – sometimes three, four, or even five times – because they want and need the rods to be perfect before they go to the angling masses. This simply does not happen with other rod manufacturers."
Stenlund hints that bass anglers who throw big baits like so many do in California will see a prime example of the results of St. Croix's significant beta testing next month at ICAST 2022. She also says St. Croix hopes to apply the new Regional Pro Staff Model that's being implemented in California to other areas of the country. "It all starts with the best people, right? Our people are the foundation of everything St. Croix does for anglers, so identifying the right staff to lead efforts in other key regions as Matt has done in California is the first step. We're fortunate to have a really deep staff of incredible anglers throughout the country, and we'll be spending some time and resources in the coming months studying opportunities and deciding how and where we can best connect our brand and handcrafted rods with even more anglers."
Frazier says the team is seeing good results so far. "St. Croix is already using California staff input in the development of new rods – most recently in last year's new BassX swim bait models and this year's release of the incredible new Legend Tournament Bass Series – and we've been able to increase inventory to many of our St. Croix dealers and even bring a couple new retail partners on. We're seeing more St. Croix rods on the decks at tournaments, on TV, in articles, and on social media."