Meet Our Machinery
February 15, 2023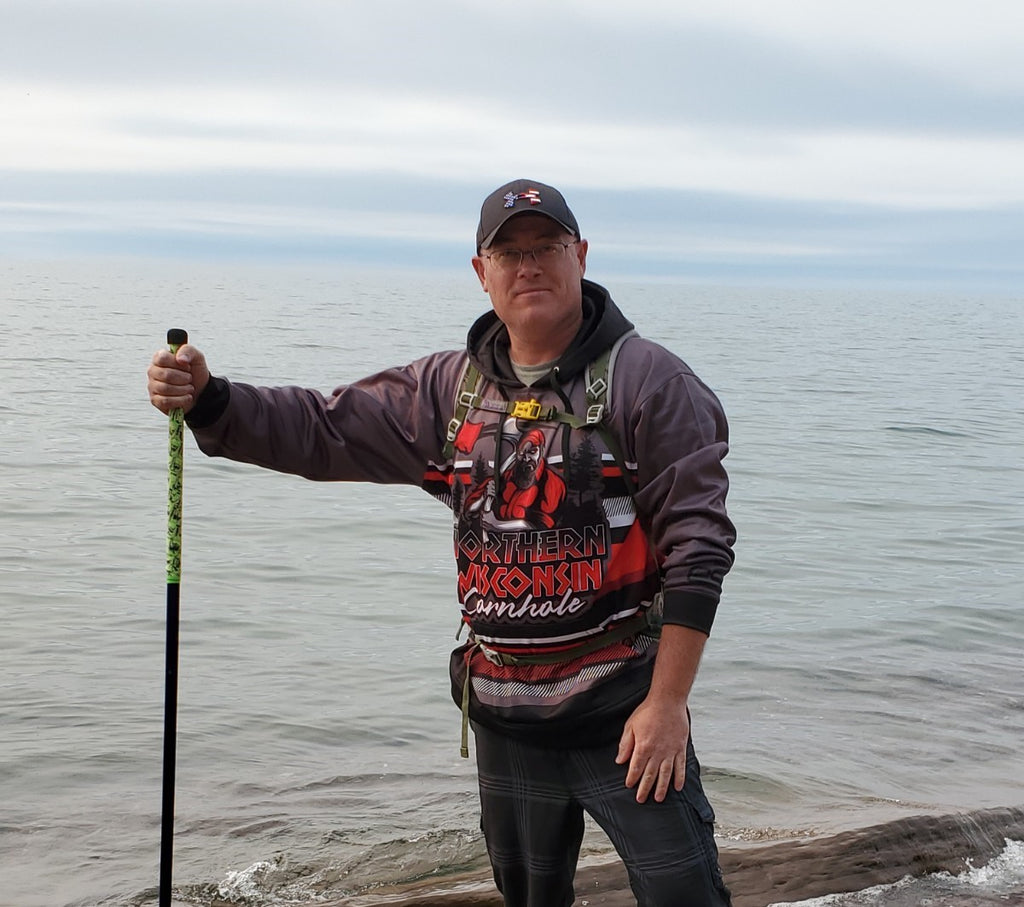 Engineering Assistant, Ed French, has been bringing the same passion to work at St. Croix Rod for 24 years
St. Croix rods have energy. Have you noticed? No, we're not talking about power, action, or sensitivity; we're talking about the embodied energy in every St. Croix rod that comes from the minds and hands of the passionate individuals who design and craft them. Ed French is one of those people. 
"I came to work at St. Croix Rod right out of high school at age 18," Ed says. "That was over 24 years ago. I worked in handle assembly a few years before I was promoted to take over in our component warehouse. About four years later I became Lead in handle assembly, where I worked for about nine years before earning a promotion to my current position."
Today, French is one of two Engineering Assistants inside St. Croix's Engineering Team, consisting of himself, Engineering Assistant Al Murphy, and Engineering Supervisor Gavin Falk. "Our job is to make the Best Rods on Earth a reality," French says. "Really, that's everyone's mission here at St. Croix, but our team figures out how they'll actually come together by building and testing prototype designs. Every part of a new St. Croix rod – blank, handle, guides, other components, and finish – has to work together to create something that helps anglers catch more fish or enjoy fishing more. Sometimes there are challenges in getting everything to come together, so it's our job to troubleshoot and find solutions. This process is always interesting because we have so many tools to help us solve problems, like 3D printers, diverse materials and technologies, and sophisticated testing equipment. I think our best tool, though, is the passion each of us brings to work every day. We are all as passionate as our anglers and never cut any corners." 
In addition to the other members of the Engineering Team, French says he works closely with St. Croix's various floor supervisors and process leads, as well as outside component suppliers. "We collaborate with and rely upon everyone out on the floor for input on how to overcome challenges," French says. "Everyone is vested in the same mission of making rods that give our anglers the upper hand."
French says building prototypes is always a big part of the Engineering Team's work. "We're always working on product development. Troubleshooting, dealing with suppliers, testing prototype rods internally, and then tweaking and revising designs when our anglers provide feedback from actual use on the water," he says. "We're also involved in training. I set up all our electrostatic painting where the details of charge, speeds, and pressures are critical to producing a beautiful and durable finish on our rods." 
French says he's currently working on some incredibly exciting projects he isn't allowed to talk about yet. "We're doing some of the most exciting work right now than anything I can remember in the past 24 years," he says. "Anglers are going to start hearing about and seeing the results of these initiatives later this year!"
Away from work, French loves fishing, spending time with his two kids, and describes himself as a rock nerd. "I absolutely love kayak fishing and it doesn't matter to me what I'm fishing for," states French, who says his favorite rod is a prototype he and his team made of the new Legend Tournament Bass 610MLXF. "I'm also really into looking for agates and other interesting rocks and minerals along Lake Superior's beaches," he says. Yooperlites – a normal-looking gray rock that contains veins of fluorescent sodalite – are a particularly interesting target. "They look normal in the light, but when you hunt for them at night with a special UV flashlight, they glow a vibrant orange or yellow. I've found a pile of them."
Ed French is just one of several St. Croix team members who have been working for the company for many years. "It's the people who make coming to work here so special and rewarding," he says. "We have the best staff. Everyone is passionate about their job and because of that they're happy. We're all just like brothers and sisters." 
At St. Croix Rod, your passion has been our passion – every day for the past 75 years. Our rods wouldn't be the same without it.