Don't Overthink Early
Season Muskies
June 23, 2022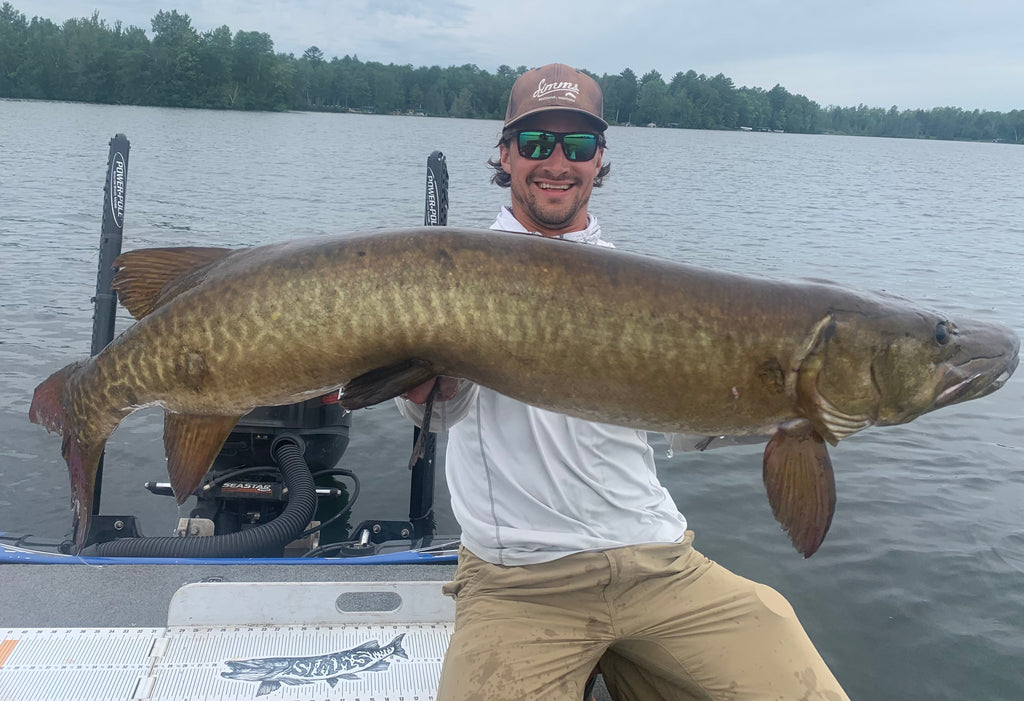 Good musky fishing is where you find it. And during early summer throughout the prime musky waters of the Canadian provinces, Minnesota, Wisconsin, Michigan, Illinois, Indiana, Kentucky, West Virginia and other states, musky experts Steve Heiting, Cody Hahner and Barb Carey agree that you'll find it in some very specific places. They say water temperatures and available food are the two guiding factors. Crack the code by using the mapping, side-imaging sonar and temperature features of your electronics, employ the proper gear, and you'll be gripping and grinning on a regular basis.
Legendary Wisconsin musky guide, writer, editor, educator, and 2022 Fresh water Fishing Hall of Fame inductee, Steve Heiting, says muskies have only two primary focuses in life, spawning and eating. Right now, they're doing both.
"Muskies spawn when water temps are 52 to 62, which typically occurs in May on the Wisconsin Northwoods waters I most often fish, but can extend into early June," says Heiting, who most often begins his musky season fishing in or near spawning locations. "These are typically shallow, somewhat-protected bays away from the main lake, the best of which often have an incoming stream that provides warmer water," Heiting advises. "Most fish that muskies will feed on also use these bays for spawning, so a spawned-out musky can often quickly find food."
Most musky waters have precious few good spawning locations, so all of a particular lake's muskies can be concentrated in a couple spots – a good thing for the musky angler. "Any cover or structure in or near these spawning bays may hold a feeding, post-spawn musky during May or Early June," says Heiting, who advises anglers to target dead or newly emerging weeds and rushes, fallen trees, brush, manmade cribs, rocks, docks, points, and even shoreline irregularities, particularly those adjacent to a steep break. "I start in the bay, and if the fish aren't there I'll check any cover or structure between the bay and the main lake. These transition zones just outside the bays can be very productive. If you can't find muskies in the bays or these transition spots, check the nearest main lake weeds or structure."
Heiting says water temperature means everything at this time of year, even more than weather or the moon. "I've had fantastic days in bright sun as well as heavy clouds as long as the water is warming," Heiting reports. "I usually don't get on the water until around 9:00 am, and some days that's even too early. if muskies aren't contacted in the spawning bays in the morning, they may become active there midday or in the afternoon. A change of one or two degrees in water temp can mean a huge difference in their aggressiveness." Heiting says early-season musky anglers should also pay attention to the wind because it can affect water temperatures. "I want to stay out of the wind if possible. In the summer and fall I like to fish in the wind, but early in the season it can blow cooler, main-lake water into the places I hope to fish, which can turn muskies off." 
Heiting is a fan of smaller lures early in the season because they appeal to more muskies. "Spawning is a stressor for muskies, so a smaller lure is easier to tackle than a big one," he says. "In the morning I will almost always snap on a twitchbait like a 6-to-7-inch Slammer, Grandma or Baby ShallowRaider, or a 7-inch Suick Muskie Thriller. As the water temp warms, I'll choose a Mepps Musky Killer or Musky Marabou."
Smaller lures are lightweight and not very buoyant, requiring some specialized gear. "St. Croix's medium-heavy power musky rods are the key for casting them," says Heiting, who prefers the pinnacle performance of St. Croix's 8'6" Legend Elite Musky (LEM86MHF) casting rod but says the Premier Musky (PM86MHF) or Mojo Musky (MJM86MHF) are also outstanding choices. "I pair them with a baitcasting reel with a 5:1 retrieve ratio, 65-pound braided line and a Stealth Twitchbait Leader. The weight and drag of a leader can greatly affect the performance of smaller lures, and I helped Stealth develop the Twitchbait Leader for this reason. It has the same quality and components as heavyweight leaders, but in a smaller package, so it will not fail if you hook a big early-season musky."
As water temperatures rise into the mid 60s, Heiting begins fishing the main-lake basins for suspended muskies. "It's my favorite Wisconsin bite of the whole season," he says, "and usually lasts from early June until the lakes develop a thermocline sometime in mid-July." Heiting says you don't need ciscoes or shad in the lake for a good open-water bite, but their presence does produce more consistent results. "If not ciscoes or shad, if you see bluegills, crappies, perch or shiners on your electronics that are suspended in deep water, you can still have great musky fishing," Heiting says. "The key is the baitfish – whatever they are – must be suspended within 15 feet of the surface over depths ranging from 20 to 60 feet."
The side-imaging sonar channel on your boat's electronics is a key tool in the identification of both suspended baitfish and the muskies that prey on them. "If I see a musky on side imaging, I'll lay a waypoint on its location and then circle the waypoint with my boat to cast at it from all directions," Heiting says. "If it doesn't bite on my first lap, I return during some kind of light, moon, wind or weather change. Many of these otherwise lock-jawed fish will bite when it starts to get dark."
Heiting also says to watch the surface of the lake for splashing baitfish. "They may be feeding or could be getting pushed up by feeding muskies," he says. "Since you're fishing so close to the surface, you want to use lures that run shallow so they stay above the muskies' field of view. I mostly use Mepps Giant Killers, Swimmin' Dawgs, Whaletails and the Triple D crankbait for this application, and rely on St. Croix's Legend Tournament Musky LM86HF "Sling Blade" rod for this, because it loads and casts bigger baits so well while having the backbone to set the hook hard. In cold front conditions, I'll choose a Baby ShallowRaider and fish it with a slow and steady 'zombie' retrieve and use any of the 8'6" medium-heavy St. Croix models."
While Heiting's favorite all-around early-season musky rod is the Legend Elite Musky LEM86MHF rod at this time because, in his words, "it's so lightweight, can cast a myriad of spring baits, can control a big fish, and feels like an extension of myself," he recommends the St. Croix Mojo Musky MJM86MHF for beginners. "A newcomer shouldn't abuse themselves with big lures right from the get-go," he says. "Smaller lures catch fish – not just right now but throughout the season – and are easier for beginners to manage. I believe the Mojo Musky series is the best bang for the buck in musky rods today, and that MJM86MHF model, is a particularly good choice."
When not fishing the St. Croix Bassmaster Opens Series, Cody Hahner of Wausau, Wisconsin spends much of his free time throughout late spring and early summer chasing giant muskies on Wisconsin's abundant inland lakes. In Hahner's neck of the Northwoods, muskies take precedence over bass, and he's known his path for a long time. He came to career day dressed as legendary angler, Joe Bucher, when he was in kindergarten, and didn't become a tournament bass guy until his college days.
"Typically from the Northern Musky Opener (Memorial Day weekend this year), I spend a weekend or two over in Green Bay chasing big pre- and post-spawn fish. You can usually find them in just about any trib that runs into Green Bay, and smaller and slower presentations are usually key," Hahner says. "It's a lot of fun with some opportunities for some really big muskies, but I don't pretend to be an expert of the Bay. My season really kicks off in the inland lakes in Northern Wisconsin in early-to-mid June."
Hahner agrees with Heiting on the top-two patterns that really shine. "I'm either targeting weeds adjacent to spawning flats or bait suspended out in open water," Hahner says. "Fish are coming off the spawn and are trying to recoup from the rigors of this ritual by looking to feed.  Some of the best open-water basin fishing can be early in the year when water is cool and the ciscoes and whitefish are up high in the water column. Typically the biggest females in the system will be taking advantage of favorable water temps and a baitfish that's easy to capture."
Hahner says finding these open-water muskies is fairly easy. "Ciscoes spend 99% of the year roaming the deepest basins in the system. I just use my side-imaging sonar. Find these schools of bait and you've found the muskies." Even in open water, Hahner says ciscoes will usually be relating to some key feature – often deep, rock-to-mud or sand-to-mud edges. "These bottom transitions offer a zone where zooplankton and other bugs hatch the hardest," Hahner says. "The ciscoes won't be on the bottom; they'll linger suspended over these areas because that's where their food is. Muskies won't be far."
Hahner says June basin muskies are often found suspended in the top 10 feet of water. "They use this zone until waters warm and a thermocline sets up, so that makes them susceptible to most types of baits," he reports. "Almost all ranges of musky presentations have a place here. Bucktails, jerkbaits, a multitude of rubber baits, and topwater lures all have their time, depending on the conditions and fish activity."
Hahner shares thoughts on his preferred early-season musky gear: "For medium-sized rubber baits like     
small Lake X Toads and B52s, I use a 9' heavy power St. Croix Legend Elite Musky (LEM90HF) rod with a 500-size reel and 80-puond braid. This setup is all about tip, sensitivity, and power. I want a rod that has a fast tip to manipulate rubber and make it dance, the sensitivity to feel that happening, and ample power so I can pull all that rubber through the teeth of a musky and drive the hooks in."
For larger rubber baits, Hahner employs a 9' extra-heavy power St. Croix Premier Musky (PM90XHF) rod with a 500-size reel spooled with 100-pound braid. "It's my favorite rubber rod and can handle any bait in the musky market," says Hahner, adding that the PM90XHF is well balanced to avoid fatigue and has more than enough power to drive hooks home, which can otherwise be challenging with giant rubber baits.
Of course, Hahner fishes bucktails this time of year, too, but – contrary to the thoughts of many – doesn't believe extreme downsizing is an automatic. "I'm usually throwing Double 9s or 8/9 combos on a long, powerful rod," says Hahner. "Long rods mean long casts and giant figure 8s," he says. "If you're a musky angler and haven't tried a 9', 9'6", or even a 10' rod, you're missing out. There's a lot less fatigue and back issues with a longer rod because you aren't bending over so far on your 8's, plus you've got more room – side to side and shallow to deep – to work a fish on a figure 8. A longer rod will absolutely put more fish in your boat."
For beginning musky anglers looking to purchase their first musky rod, Hahner recommends looking at St. Croix's Triumph Musky or Mojo Musky Series. "I'd say a 9' heavy power Mojo Musky rod would be a smart choice," he says. "The length and power may seem intimidating to a new angler at first, but this rod will be able to handle most of the baits on the market with ease and they have great balance and ergonomics. The heavy power is going to help master hooksets, and the longer 9' length has more advantages than negatives, especially since St. Croix engineers the 9' Mojo models with a telescoping tip section so they collapse down to 7'10" to easily fit in rod lockers."
Michigan U.P. native turned Oxford, Wisconsin resident, Captain Barb Carey, has dedicated many years of her life to anger education. Founder of WI Women Fish – a group with hundreds of members from over 20 different states and Canadian provinces with the mission of helping women become more active in the sport of fishing – Carey says many newer anglers are often intimidated by musky fishing because of the specialized gear required and the imposing size and physical features of the fish themselves.
"Proper handling of muskies is really important for the health and well-being of the fish and must be considered a fundamental conservation skill for any musky angler," Carey says, "but it's also a barrier to participation in the sport. Muskies can be intimidating. For any women wanting to get started in musky fishing or improve their musky-fishing skills, there is an annual Fall Musky School on the Chippewa Flowage out of Deerfoot Lodge and Resort." Carey says other lodges and organizations, as well as most fishing guides, also offer instructional opportunities. "It's great way to learn how to properly handle these valuable, toothy critters and improve your overall musky game, so instead of sitting on the sidelines, anglers can gain the knowledge and confidence they need to start reaping the rewards of musky fishing."
With respect to musky gear, again, Carey says employing the services of a licensed fishing guide, joining a club like WI Women Fish, or participating in an organized event like the Fall Musky School are good ideas. "New, would-be musky anglers can become educated on gear, techniques, and experience musky fishing without having to outlay a lot of money for their own gear," Carey advises. "Guides, lodges and clubs have the right gear to put in your hands. If you like it, then you can consider investing in your own equipment."
Carey's favored rod is a St. Croix Legend Elite Musky 8'6 medium-heavy power, fast action model (LEM86MHF). "I pair that with a Daiwa Lexa-WN 400HA-P and find that I'm able to cast far and with less fatigue. It's a versatile musky setup that handles a lot of different lures, and the fast action and extreme sensitivity allow me to really work the baits and feel what they are doing." She says beginning musky anglers don't need to spend a lot of money on their first musky rods. "St. Croix's Triumph Musky Series delivers St. Croix performance for a surprisingly modest investment of $135-$145," she says. "These rods are strong, sensitive and a great value. Once you fall in love with chasing and catching this thrilling species, you can upgrade and add an additional rod or two of varied lengths, powers and actions."
Parting Advice
Muskies prowl in predictable locations throughout early-to-mid-summer. Use your electronics to follow the forage and water temps, then target the fish with the proper gear. "Look for the warmest water temperature early," Heiting summarizes. "As the water temp climbs into the mid 60s, check open water. It may take a while to develop confidence when casting for suspended muskies, but the reward is usually worth it. Giants swim in the deep!" Hahner says it's all about the bait. "It may be common knowledge, but it bears repeating… a musky's brain is tiny," he says. "These fish spawn and they eat. Stay around the bait and you'll be around the muskies." Carey agrees that the early season is a great time to boat a lot of muskies. "Be prepared with the proper gear and take the time to learn to handle them properly," she says. "That includes landing them, unhooking them, holding them for photos and returning them to swim free – all while reducing stress and avoiding harm to both fish and angler." She also summarizes advice on gearing up. "Buy the best equipment you can afford from reputable brands. A $50 musky rod or reel seem like great ideas until you try to catch a fish with them. Performance matters. Feel, sensitivity, power and durability are all key factors that will definitely help you experience more success while musky fishing."