Big Fish, Small Boats
March 18, 2021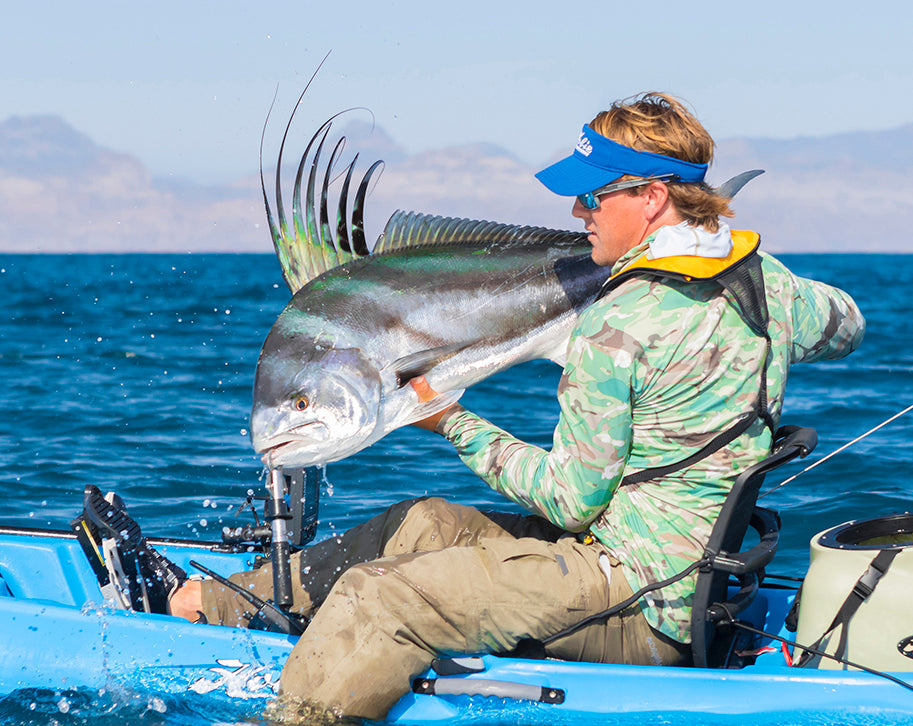 Chasing plus-sized predators from kayaks in fresh and salt waters
Kayak fishing is on the upswing. From coast to coast, more and more anglers are fishing out of kayaks in both fresh and salt waters. These portable, nimble craft are easy on the wallet, can be launched almost anywhere, and can be outfitted with a dizzying array of fish-hunting gear. And while bass and panfish are always popular targets, there's a growing number of kayak anglers chasing the challenges and reaping the rewards provided by larger predator species like pike, musky, striped bass, bull redfish, tarpon and more.
We talked with St. Croix pro staffer Tanner Speidel, Hobie Fishing's big-fish-hunter Morgan Promnitz, and 2018 IFA Kayak Tour Championship victor Benton Parrott to get scoop on some gear considerations kayak anglers might think about before targeting and doing battle with big fish from small boats.
 St. Croix Pro Tanner Speidel
Northeast Iowa's Tanner Speidel has been fishing seriously from a kayak for about ten years and says northern pike are his favorite species to pursue.
"Here in Iowa we're blessed with a lot of large interior streams and rivers. Two of my favorites are the Wapsipinicon River and the Cedar River, and they're really good for northern pike. I like to target a lot of smaller waters like creek mouths and backwater bays off of the main rivers. Northern pike can really stack up in these slack-water locations because they're usually loaded with ambush cover and food," offers Speidel. 
Like most predatory fish, northern pike are opportunistic feeders, so you can catch them on about anything. "I use a lot of spinnerbaits and bucktails in UV colors, considering our stained water," says Speidel. "One of my favorite things about northern pike fishing is that if you ever miss one, you can usually cast out to the same spot again and catch it. They're also very predictable; seems like they're always going to relate to the backwater areas and shaded banks, so it makes them easier to find on most days. One of my favorite things to do is cast a spinnerbait over really dense areas where there are logjams and weeds… really icky stuff that you wouldn't want to be throwing treble hooks into. You just know they're in there waiting to ambush. If they don't hit me the first time, I'll throw a big bucktail out and usually get them on the second time, even if they already hit and missed the spinnerbait. That's one of the great things about northern pike; they're usually very forgiving."
Speidel's absolute favorite northern pike rod is the 7'4" heavy power, fast action St. Croix Legend Tournament Bass Slop & Frog model (LBC74HF). "It's an awesome, versatile rod for lures up to about 1.5 ounces," he offers. "It handles lighter stuff really well, too, and is definitely my favorite spinnerbait rod. It has an accurate tip and plenty of power to pull big pike out of the brush, and it's plenty long to fight fish around the bow of a kayak."
Another of Speidel's favorite rods is St. Croix's ultra-unique 9' Legend Tournament Musky Downsizer (LMD90MLF). "Casting bucktails on that rod all day is just a blast," says Speidel, who adds that the rod has surprising power for its medium-light rating. "The SCIV carbon and 9' length of these blanks work together to provide immediate access to the rod's power for setting hooks and fighting big fish. St. Croix designed this and the other two models in the Legend Tournament Musky Downsizer Series for fishing some of the smaller musky baits that are highly effective and preferred by many on smaller rivers, in the springtime, and anywhere where muskies are less pressured. These rods are exactly what the name implies: downsized musky rods that reduce fatigue and actually match ideally to most popular northern pike presentations."
Speidel is also adept with a fly rod in his hands, searching out northern pike with oversized and flashy flies tied on his own vice. "In the middle of the summer when we have a lot of northern pike run up into the creeks, I like to fly fish for them from the kayak with a 9 weight St. Croix Imperial USA Fly rod. Believe it or not, you can do a lot of sight fishing for pike during this time and it's a riot. I tie a lot of my own flies with dragon tails and the pike just love them," says Speidel, who adds that fly fishing for pike is not only fun, sometimes it's the best way to catch them. "Because of the materials we use, flies can be created that are neutrally buoyant. Therefore, there are some fly-fishing presentations that simply cannot be duplicated with conventional casting gear."
Speidel is also very excited by the launch of St. Croix's new Victory Series. "I'll definitely be ordering a few of these rods. I like that they are going to be made in Park Falls and priced at a place where a lot of anglers can afford them. I'll definitely be putting the 7'4" heavy fast (VTC74HF) and 7'3" heavy, extra-fast (VTC73HXF) models through their paces and believe they will translate well to the large, predatory fishing I do. I'm especially intrigued by the 73HXF; that's looking like an incredibly unique rod, and I've heard it can throw a surprising range of lure weights."
Big Fish Kayak Expert Morgan Promnitz
Anyone who's watched the Hobie Outdoor Adventures television program – or simply paid attention to the world of kayak fishing – will likely recognize Morgan Promnitz. Long associated with the Hobie Fishing brand, Promnitz is currently Director of Fishing Business Development for Hobie Fishing, and is a pioneer of California's saltwater kayak-fishing scene. From his home waters near San Diego, he's pushed off to points around the globe to do battle with big fish from small boats.
"From yellowtail, white sea bass and rooster fish to tarpon, redfish and snook, I pursue them all from a Hobie kayak with St. Croix rods," says a humble Promnitz, who's been well documented across the Internet with exotic kayak catches of additional monsters like yellowfin tuna, Pacific halibut, and sailfish.
"When I can – which is a lot – I prefer to use St. Croix's Legend Xtreme Inshore spinning rods, which are really bad to the bone. For my redfish stuff, my favorite rod is the 7' medium power, fast action Legend Xtreme model (XSS70MF). This incredibly sensitive rod fishes exceptionally light in the hand. I really like the fast action, which allows you to work a lure, and the SCV/SCVI carbon blank has responsive power to set the hook no matter the presentation. Too often with many saltwater rods that are too glassy or soft, you don't get a good hookset. On large inshore fish, a lot of them have hard mouths – like redfish and tarpon – and you need that hook-setting power."
Promnitz dives into what any saltwater rod needs to do. "Step one is getting your lure out there in the right place," he says. "You need a rod with a blank and a guide train designed to deliver long casts, with a fast tip that helps with accuracy at all distances. Step two is getting the fish to eat, which for a lot of presentations requires a rod with extreme sensitivity so you can feel what that lure is doing at all times. And step three is getting a good hookset," which for most saltwater fish requires a fast, powerful rod with no slop. "Legend Xtreme Inshore overdelivers in every category.
"I can get a lot of distance from these Legend Xtreme Inshore rods, even with relatively light lures," Promnitz continues. "And with their faster actions and crisp blanks, I have exactly what I need to set the hook on larger fish. These rods are incredibly powerful for their weight, which make them a real joy to fish. My setup with these rods typically consists of 20-pound Daiwa Samurai braid on a 2500-size Daiwa Ballistic spinning reel. I'll step up to the medium-heavy power Legend Xtreme Inshore spinning rod (XSS70MHF) when needed, like when fishing big snook around mangroves or docks," he adds. "You need a lot of pulling power for a 40-inch snook or a 35-inch redfish, especially when there's trouble around; they can saw you off pretty quick if you can't control them. I use the same two rods when striped bass fishing on the East Coast. I use the medium heavy on the larger-size fish and the medium for schoolies, typically rigged with jigheads or a Daiwa SP Minnow."
Promnitz is also a big fan of St. Croix's Mojo Yak rods, and was an early adopter of the series upon its release a few years ago. "I'll use these super-durable kayak-optimized rods with a baitcaster for calico bass, striped bass, or when fishing big largemouth bass," says Promnitz, who in the past year alone has caught two largemouth bass over ten pounds. "I know this article isn't about bass, but that Mojo Yak rod in the 7'6" medium-heavy (MYC76MHF) is an awesome all-around rod for throwing chatterbaits, buzzbaits, or swimbaits. You can also use it for flipping or pitching – it's that versatile," says Promnitz, who adds that the shortened handle designs incorporated into the Mojo Yak series are ideal for kayak fishing. "It' a small thing, but they just make it that much more manageable in a kayak, especially when fishing sitting down."
Promnitz is also bullish on St. Croix's angler-favorite Avid Inshore Series, especially the 7'6" heavy power models in both spinning (VIS76HF) and casting (VIC76HF). "That's a go-to all-around rod for tarpon in the 40-to-120-pound range," he says. "I've also caught 30-pound yellowtail on it on the West Coast. I use the baitcasting version for calico bass with big, heavy swimbaits… I'm talking one-to-two ounce heads and five-to-six-inch bodies around kelp and stuff. I even caught a 20-pound grouper on it fishing the same plastics in Mexico, along with roosterfish and big jacks. Whether you choose spinning or baitcasting, these rods are just awesome for larger-sized inshore fish in that 20-50 pound range.
Promnitz prefers St. Croix Mojo Salt spinning rods when live bait fishing. "I like that 7'6" medium-heavy rod (MSWS76MHF)," he says. "I'll use that for fishing virtually anything big and bad out of a kayak – big roosterfish, monster yellow tail, snapper, tarpon… the rod is so incredibly durable. You can only pull so hard out of a kayak and these rods really help you land big fish. It's also a great choice for casting poppers for yellowfin tuna, dorado, big jacks… all kinds of different species that strike so violently."
St. Croix Pro Benton Parrott
Based in Navarre, Florida, St. Croix pro Benton Parrott is literally surrounded with primo big fish waters. The Gulf of Mexico is about ten minutes from his residence, as are lots of backwater bays. He's quite adept at fishing from a kayak in both freshwater and salt, and is an accomplished tournament angler. Among other victories, Parrott earned top prize at the 2018 IFA Kayak Tour Championship, and did it entirely with St. Croix rods.
"I like to sight cast to big bull reds where we have a lot of grass flats with crystal clear water," offers Parrott. "The St. Croix AVID Inshore Series is kind of my workhorse, but I also use a lot of the Legend Xtreme Inshore spinning rods. Whenever I go out, these are my favorite two rods. When sight casting for some of these bigger bulls, I'm using a medium-heavy Legend Xtreme. I like them for many reasons, but primarily because they're super lightweight. I don't have to use super heavy gear on the kayak; I can use a medium-heavy rod with a 4000 size reel or even smaller, because the kayak acts as part of the overall drag system. And, of course, the sensitivity of all the Legend Xtreme Inshore rods is off the charts… unparalleled in my opinion."
"We're in areas where there are wolf packs of bull reds," he says. "I'll often make long throws on the grass flats with a soft plastic or a jerkbait-style lure… something I can work over the grass kind of shallow. You'll usually get them to bite that way. On the contrary, when we're In deeper water we're jigging and fishing larger crankbaits to get them to bite."
Parrott also fishes a lot offshore. "Here in Navarre, Florida, we're just in a glorious place to fish offshore. We go out and troll and we also jig in the kayaks, deep dropping on the reefs," he says. "When I'm trolling, I'm using Mojo Salt rods – often the medium-heavy power baitcasting model (MSWS76MHF) for the kings and the other larger species that come through. I'm also using the Mojo Jig Series when we're fishing snapper. These are shorter rods that are easy to handle out of the kayak. Both the Mojo Salt and Mojo Jig Series rods are incredibly durable and strong. There's no worries about breaking rods in the boat and they are strong enough to pull up a snapper or grouper or anything else I encounter offshore."
Parrott's home base in Navarre puts him within easy striking distance of the Florida Panhandle's little-known (or perhaps lesser-known) summer tarpon migration. The fishing can be every bit as hot as the weather when pods of mature, adult tarpon roll past the Panhandle beaches every July and August. When they do, Parrot is waiting in his kayak wielding his favorite tarpon staff, an 8' heavy power, fast action Avid Inshore spinning rod (VIS80HF). "I'm always set up for a pod of tarpon when they come through," says Parrott. "These big tarpon have seen it all once they get to us and our clear water, so they don't tolerate anything sloppy. Also, they're on a mission, so you may only get once shot at a passing pod; the cast has to be perfect. Whatever I may be throwing, the fast tip on that 8' heavy is just so accurate, and when they eat, it's got the power necessary to drive the hookset home and land them quickly in the warm water," he adds. "As long as you can stand the heat, any angler coming to the Panhandle in the middle of summer should definitely check out our tarpon fishery, and a kayak is a great way to do it."
If you're a kayak angler, you're already aware of the many benefits fishing from a small, human-powered craft can provide. Primary among those benefits is the relative ease in which you can pack up and set forth for adventures on new waters. No matter where you're located, there's a big-fish bite happening near you. So, do a bit of research, heed our experts' advice on rod selection, and you'll be in prime position to do battle with exciting new fish of plus-sized proportions.
Show us your photos and tell us your Big Fish Small Boat stories on Facebook at @stcroixrod and on Instagram at @stcroixrods.
#stcroixrods