Anglers Win
July 18, 2019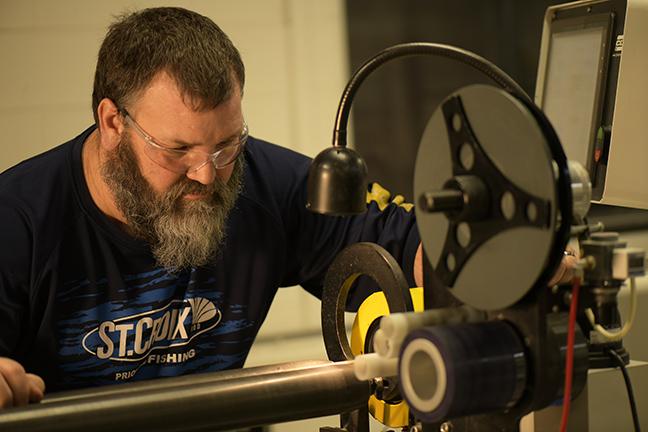 St. Croix Rod Sweeps All ICAST New Product Showcase Rod Category Awards… Again
PARK FALLS, Wisc. (July 18, 2019) – Everyone loves to win awards. They provide welcomed recognition and represent excellence in achievement, often on behalf of a team that's greater than the actual name on the award itself.
The International Convention of Allied Sportfishing Trades' (ICAST) New Product Showcase Awards recognize the best new fishing products in multiple categories each year. Voted on by attending product buyers and members of the sportfishing media, these "Best of Category" awards represent the pinnacle of achievement in the fishing tackle industry and are intensely competitive.
When a fishing company wins one of these special awards, it's the result of well-conceived ideation, careful planning and focused execution that culminates in a product that will help anglers find more success and enjoyment on the water. And when a fishing company wins three of these awards? Well, it's clearly emblematic of a company that's built – top-to-bottom – to understand and serve the needs of its customers –the legions of passionate anglers they serve across the country and around the world.
St. Croix Rod swept all three fishing rod categories in last week's 2019 ICAST New Product Showcase Awards in Orlando, winning the Freshwater Rod award with the new Mojo Bass Glass, the Saltwater category with the new Avid® Surf, and the Fly category with the new Imperial® Salt Fly. It's a feat no other rod company has ever achieved. Remarkably, it's the second consecutive year that the Park Falls rod manufacturer accomplished this trifecta.
 St. Croix's team graciously accepted the awards as they did the previous year. There was no screaming or shouting… just warm smiles, handshakes and hugs, and a great sense of accomplishment and pride. Less obvious was the collective and humble recognition of whom these awards really honor and belong to. St. Croix Rod, you see, encompasses every person who has a hand in designing, building and using the Best Rods on Earth®. There's a name those inside St. Croix's world headquarters in the tiny Northwoods town of Park Falls, Wisconsin use to describe their team. It's Machinery, a term used to describe the people who deliver the precision, care, dedication, craftsmanship and technology – often through their own two hands – that goes into every St. Croix rod.  It also includes the company's sales representatives, account managers and customer service representatives, as well as the partner agencies and media members who promote the brand, the products and the simple joys of fishing. And, of course, it includes every passionate angler who takes pride in using a St. Croix fishing rod.
These recent awards represent the culmination of all we do at St. Croix Rod to give anglers the upper hand on the water and the opportunity to more fully enjoy every precious minute spent fishing. These awards are for you, and for our skilled and dedicated Machinery. To you, we offer our heartfelt thanks for the confidence you place in us, as well as the ongoing commitment to continue building the Best Rods on Earth® for every fishing pursuit and technique.
If you are coming to northern Wisconsin, we'd love to meet you and thank you in person, and we'd love for you to have the chance to Meet Our Machinery. Call us at 800.826.7042 or email us atfactorytour@stcroixrods.com to schedule a factory tour.
Learn more at https://stcroixrods.com/pages/factory-tours.
Learn more about the new, award-winning St. Croix Mojo Bass Glass Series
Learn more about the new, award-winning St. Croix Avid Surf Series
Learn more about the new, award-winning St. Croix Imperial Salt Fly Series
About St. Croix Rod
Headquartered in Park Falls, Wisconsin, St. Croix has been proudly producing the "Best Rods on Earth" for over 70 years. Combining state-of-the-art manufacturing processes with skilled craftsmanship, St. Croix is the only major producer to still build rods entirely from design through manufacturing. The company remains family-owned and operates duplicate manufacturing facilities in Park Falls and Fresnillo, Mexico.  With popular trademarked series such as Legend®, Legend Xtreme®, Avid®, Premier®, Tidemaster®, Imperial®, Triumph® and Mojo, St. Croix is revered by all types of anglers from around the world.