Angler Input and World
Specific Croix Custom Ice (CCI) Rod Series for 2020
June 25, 2020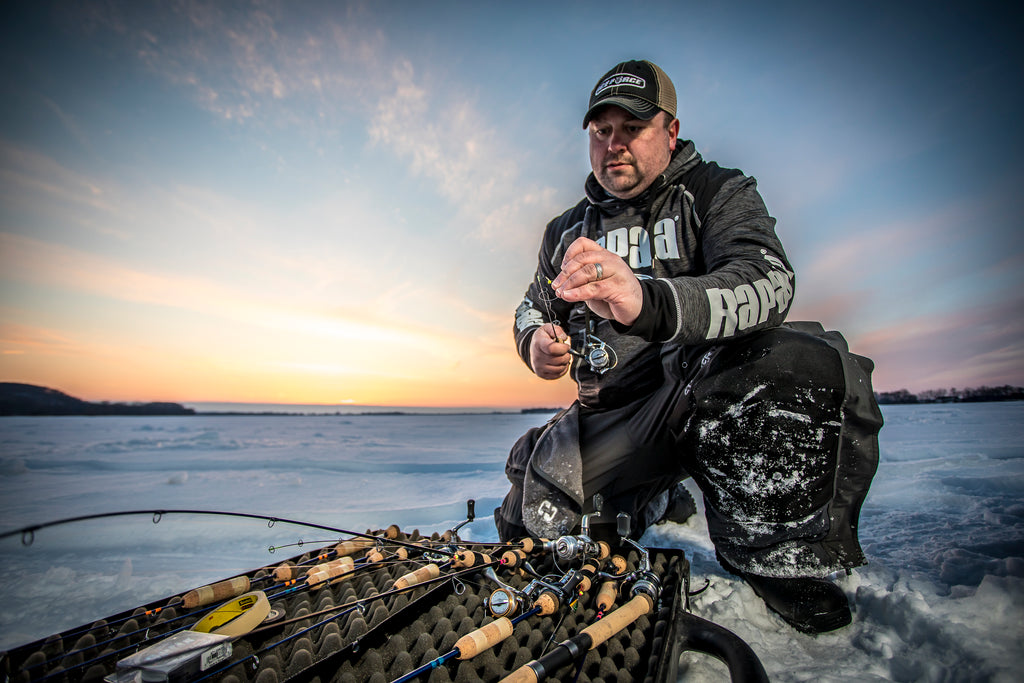 New CI38MXF EYE RAISER headlines three-model expansion of St. Croix's pinnacle ice rod series
Park Falls, WI (June 25, 2020) – Launched in 2018 and expanded in 2019, the technology-laden made-in-the-USA Croix Custom Ice series is back for 2020 with three all-new models to meet the needs of the most discriminating ice anglers. Headlined by the EYE RAISER – a 38" medium power, extra-fast action rod (CI38MXF) with advanced tubular carbon / glass (TCG) construction – the expanded series also includes a new 32" light, extra-fast PAN DANCER (CI32LXF) model and a 30" medium, extra-fast HOUSE ROD (CI30MXF) model. Handcrafted in Park Falls, Wisconsin, the expanded Croix Custom Ice Series now offers anglers 16 technique-specific models featuring unrivaled technology for hyper performance in any hardwater pursuit.
The Croix Custom Ice line features carefully engineered rod blanks as diverse as the specialized techniques they serve, including rods of solid carbon (SC), solid glass (SG), tubular carbon (TC), tubular carbon and glass (TCG), as well as tubular carbon fused to glass (TCFG) through a unique, proprietary manufacturing process. St. Croix's Director of Manufacturing and Engineering, Jason Brunner, comments, "St. Croix is known for making true, extra-fast rod blanks while keeping them durable and light, which is something a lot of companies can't do. We have the design experience and manufacturing resources, tools and equipment to pull it off. We've done lightweight, extra-fast models in our longer, one-piece rods for several years now, and for the past two seasons, we've been applying the same technologies to the extra-fast models in our CCI ice rods. Our pros have been blown away by how well the new extra-fast EYE RAISER, HOUSE ROD and PAN DANCER rods perform."
A particularly exciting and unique rod in the expanded CCI lineup is the 38-inch medium power, extra-fast action CI38MXF EYE RAISER model, and is St. Croix's entry into the 2020 ICAST New Product Showcase Awards in the Ice category.
Ideal for power jigging with baits as light as 1/8-oz., the new 38" EYE RAISER and 30" HOUSE ROD models are crafted from a dynamic blend of carbon and glass patterns in a tubular construction (TCG), resulting in blanks that are extremely light and exceptionally sensitive, with tip flex for superior bite detection and the power necessary to control large predators.
Renown Minnesota guide, ice walleye innovator and St. Croix Pro, Tony Roach, calls the new CCI EYE RAISER his favorite new walleye rod. "I knew this rod was special the very first time I picked it up… the power and the action. You want to talk about setting the hook on a walleye when vertical jigging and wanting to be sure that hook sticks? Whether you are fishing In Minnesota or maybe you are fishing in Manitoba where you can't use barb, this new outside rod is perfect. It absorbs those headshakes… it almost feels like a 6'8" medium, extra-fast open-water Avid X spinning rod. It's something I hadn't  experienced in an ice rod before these CCI models came about, and it all comes down to St. Croix's engineering and manufacturing expertise with extra-fast action tubular blanks."
St. Croix Pro, Joel Nelson, expounds on Roach's remarks concerning the new CCI EYE RAISER model. "For big fish, increased rod length becomes a real benefit, and the new CCI 38" EYE RAISER recognizes this. The reel seat is a great addition for a full size walleye rod. This 38" medium, extra-fast model is light enough in the tip to handle 1/8-oz. spoons and can easily move up from there. It's an exceptional choice for #5 Jigging Raps. A lot of anglers are going to flock to this new EYE RAISER."
Roach chimes in on the handle designs for the new CCI EYE RAISER and the shorter, 30" inside HOUSE ROD. "What I love about St. Croix is it listens to anglers, and a lot of anglers want full cork grips with reel seats on bigger fish rods," he says. "Absorbing those heavy head shakes on heavy braid without worrying about reels moving is important, so having a reel seat on the EYE RAISER was the way to go. And the full-cork grip on the HOUSE ROD was key, too. Whether putting it in a rod holder in a shelter or putting it in a dead stick holder on the open ice, it's a detail that St. Croix engineers could have easily overlooked, but didn't. These two new rods have been built exactly for what anglers need them to do without worrying about whether or not they look like the rest of the rods in the lineup."
 "The HOUSE ROD is really interesting," says Nelson. "We're fishing more out of permanent shelters and portables these days, but are almost always going out hole hopping as well. The 30" extra-fast HOUSE ROD is an ideal rod for fishing big walleyes inside, yet it does well outside too. The full cork grip is perfect for rod holders, as well as those anglers looking for the classic, full-cork grip feel."
Another new CCI rod favored by Roach is the 32-inch medium power, extra-fast action PAN DANCER (CI32MXF). "This split-grip, extra-fast rod is optimal for all sorts of panfish presentations, but especially with jigs and spoons," he says. "St. Croix's SG (solid glass) construction gives the ideal taper for bite detection without compromise to control or hook-setting ability. Any die-hard panfish enthusiast will instantly recognize this new 32" model as a new favorite."
Nelson agrees. "Control is everything in so many panfish presentations," he says, especially with small spoons. The new PAN DANCER delivers so much control, you can even fish this rod standing up… even in in a moderate wind. It's a beautiful rod that's a joy to fish with."
Indeed, each Croix Custom Ice rod is uniquely designed and engineered to exceed the expectations of the most demanding ice anglers.
NEW St. Croix CCI Models
CI30MXF HOUSE ROD, 30", medium power, extra-fast action spinning, Tubular Carbon Glass (TCG) construction / Retail $140
CI32LXF PAN DANCER, 32", light power, extra-fast action spinning, Solid Glass (SG) construction / Retail $140
CI38MXF EYE RAISER, 38", medium power, extra-fast action spinning, Tubular Carbon Glass (TCG) construction / Retail $150
St. Croix CCI Features
Proprietary blank technology built into each model for extreme performance, including Solid Carbon (SC material), Solid Glass (SG material), Tubular Carbon (TC material), Tubular Carbon / Tubular linear S Glass (TCG material), and Tubular Carbon Fused to Tubular linear S Glass (TCFG material)
16 technique-specific models feature unrivaled technology and performance
REC Recoil guides with black pearl finish
Split-grip or full grip / super-grade cork handle
Two coats of Flex-Coat slow cure finish
5-year warranty backed by St. Croix Superstar Service
Designed and handcrafted in Park Falls, U.S.A.
Retail price $130 to $160