Experience the Xtreme
March 23, 2020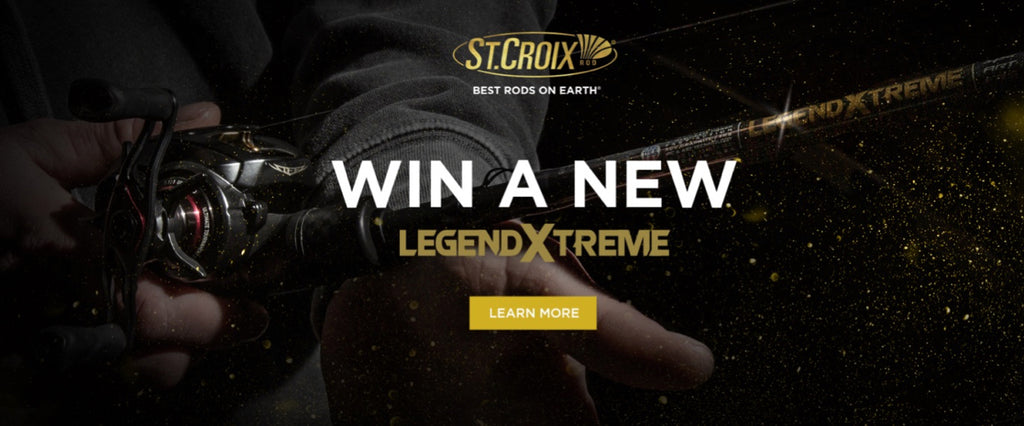 Here's your chance to win the incredible new St. Croix rod everyone's talking about
You've heard about it. You've read about it. Here's your chance to own and fish St. Croix's most sensitive rod ever… the all-new Legend Xtreme.
Refined Blanks + Daiwa AGSTM Guides + Improved Handle = Sensitivity Redefined
Unveiled to the public at the Bassmaster Classic earlier this month, the new Legend Xtreme blends St. Croix's reengineered SCV carbon and top proprietary technologies with Daiwa AGSTM carbon fiber guide frames with SiC rings and an all-new Gen2 Xtreme-Skin handle.
The reengineered SCV carbon found in the new Legend Xtreme is an example of St. Croix's constant drive to obtain the unimaginable – proven Xtreme durability with proven, unprecedented sensitivity – so anglers can fish without compromise. Engineered as a result of a new proprietary manufacturing processes, the new Legend Xtreme employs a resin that significantly increases strength in compression during the hookset, as well as flexural strength when the rod is under load. The new SCV carbon construction also incorporates an improved, overlaid ART (Advanced Reinforcing Technology) to yield the highest levels of carbon fiber density found on any fishing rod on earth. Simply put, the new Legend Xtreme offers an unquestionably pure and dense carbon, to transmit the slightest vibration through a carbon fiber guide train and proprietary handle, all while achieving a tensile strength never attained in any previous St. Croix fishing rod.
The new Legend Xtreme Series includes four casting models and three new spinning models to cover multiple freshwater presentations and techniques. To celebrate the launch, St. Croix is giving away a total of six new Legend Xtreme rods to five lucky winners in our Experience the Xtreme Giveaway.
Winning
Entering is easy; simply visit https://stcroixrods.com/pages/winlegendxtreme for complete rules and enter your email address. There is no cost to enter, but only one entry per e-mail address is permitted. Winners will be notified by email the week of May 15. One Grand Prize winner will win one new Legend Xtreme casting rod and one new Legend Xtreme spinning rod. Four other winners will receive one new Legend Xtreme rod. Winners will be given the opportunity to specify their desired rod(s) upon notification that they have won. Choices are:
1) XFC70MF  7' medium power, fast action casting
2) XFC70MHF 7' medium-heavy power, fast action casting
3) XFC71MHXF 7'1" medium-heavy power, extra-fast action casting
4) XFC74HF 7'4" heavy power, fast action casting
5) XFS68MXF 6'8" medium power, extra-fast action spinning
6) XFS610MLXF 6'10" medium-light power, extra-fast action spinning
7) XFS70MF 7' medium power, fast action spinning
St. Croix's Experience the Xtreme Giveaway will run from 12:00 AM Friday, March 13, 2020 through 11:59 PM on Friday, May 1, 2020, so act fast and enter today. Good luck!